A million miles from home...'91 YJ
by Dean Pollard
(Cape Town, South Africa)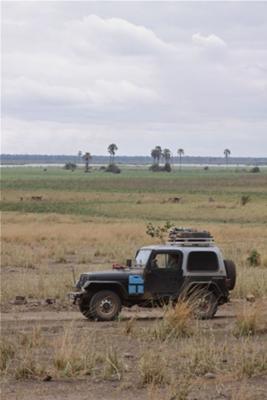 Liwonde, Malawi
My 91 Jeep YJ was built in the USA, bought in Canada, shipped to Africa and now likes to play in the realm of the Land Rover.


Being a non conformist I still take her into the African wilderness, self sufficient for a month on end, to places where most (especially the Hilux brigade) wouldn't take last years model.
My last trip was 2 months long, covered 5 Southern African countries, totaled 15,500 Km (9,631 miles) and almost all of that off road.
Two People living out of a Wrangler... and I'll have you know I had ice in my drink every night!...and wherever I go the locals love her.
She is a 1991 model with:


stock 2.5 engine and drive train,

2.5 inch Rubicon Express lift kit, with additional leaf in the rear spring pack,

Air cushion suspension in the rear for load,
31" tyres on stock 15" rims,

50l (13.2 Gal) reserve fuel tank,

2 additional reserve fuel cans (total range of 1000km (658 miles),

Built in storage draw system,

80w Solar panel for charging when stationary,
Dual battery system for Auxiliary power,

2 compartment off-road fridge freezer,

Garmin GPS,

2 spare wheels,

Tuffy security console and Tuffy security glove box,

2 drinking water jerrycans,

Ultra Violet water purifier, and

Hi Lift Jack on the bonnet.

In all the old girl is a trooper and pretty much bullet proof, but the 2.5 is short on power when I do 12 hour days in soft sand.
All round she is getting a bit tired. Over the next few months she will be getting a 2008 4.0l upgraded drive train and axles, 33" tyres, and a complete strip down, respray and rebuild.
Should keep me out of trouble.
Larry's Comment: Now that's the way to use a Jeep! Thanks Dean!