ATK 4.7L Stroker Engine Install
by Steve Garan
(Las Vegas, Nevada)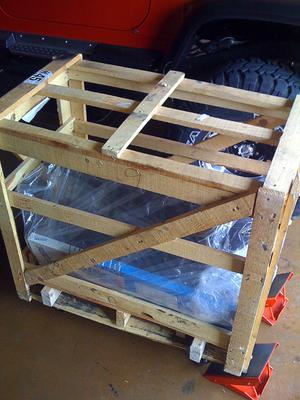 Just delivered to my garage ...
You can order this 4.7L Stroker Crate Engine from ATK with a one year warranty from California for $2795.00 delivered through 4WParts Performance.


Mopar sells the same engine for around $4300.00 with a 3 year warranty. Mopar gets their Engine from ATK. This performance motor has 205 HP right out of the crate!!!
I also added a Perfect Performance throttle Body, K&N cold air Induction, Borla Exhaust Manifold and Cat-Back System, MSD and Coil Ignition System, and fuel injector upgrades with titanium spark-plugs.
Oddly enough, no one makes a High-Performance Distributor for the YJ. Stock is the only option!
Editor's Comment: Great looking engine, Steve. Another great addition to your '94 YJ.

I have a question about the price. I looked on both the 4 Wheel Parts.com and the 4WD.com (4 Wheel Drive Hardware) websites, and the least expensive price for the ATK 4.7 crate motor was around $3219.00.

I might have misunderstood who the vendor was for where you found your motor. Maybe a discounted or sales price?

Just curious because the price you paid is a real bargain for such a fine new engine. Thanks!

Also, readers can see more of Steve's 1994 Wrangler YJ at "1994 YJ Bantum Update"