Back from the dead; Project Lazarus CJ7
by Brad
(Louisiana)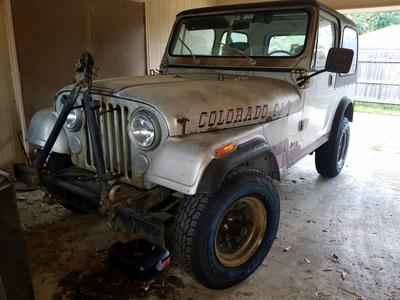 New tires.
I first laid eyes on this Jeep at the ripe age of 4. It was 1989 and I was riding with my then stepdad in his blue CJ-5 to go look at this Colorado CJ-7. We were living in Seattle, WA. I remember that day vividly. When we arrived at the man's house he had another Jeep that he was tooling around with and a large American flag hanging on the back wall. He was in the Marine Corps with my old man. This was the day this Jeep came home with me for the first time.


My dad adopted me a few short months after that and we moved from Washington to North Carolina. From there we moved to New Jersey and then finally settled in Louisiana in 1993. The Jeep was driven daily until 1997 where it was parked in the driveway and not really moved again.
In 2005 a neighbor filed a blight complaint on us and we had to prove that the jeep ran and drove. It was fired up and driven around the block leaving a huge ring of smoke the whole round.
The Jeep's health seriously declined after my parents divorced. My dad's apartment complex only allowed him one vehicle so he parked the Jeep in a field, where it was stored for 9 years. When I bought my house in 2013 I begged my dad to bring the Jeep there instead of letting it rot in the field.
In 2015, my wish was granted. For a
year and a half it sat in my driveway before my wife demanded that my dad take it somewhere else. Instead of taking it away, he gave it to me. That was December 21, 2016. I had it running 2 days later.
Since that time I've rebuilt the brakes and wheel bearings, replaced the radiator, rewired the headlights and brake lights as well as install new tires. I also removed the ECU, carter carb and all that stuff and installed a Weber 38 carburetor and HEI DUI distributer. The good thing is that the vehicle starts reliably enough which indicates the motor is still healthy. There are some bugs to work out as far as the fuel delivery is concerned.
My ultimate goal with this vehicle to mostly restore it. It has the garnet red interior which I understand to be a tad on the rare side. My research has shown that the Colorado CJ decal package might also be rare. Nothing special, probably just a kit that a dealership installed, but unique nonetheless.
I plan on giving a 2.5 inch lift to put a slightly taller tire on it, maybe a 32 or 33. I may upgrade to an EFI kit if the carb route continues to disappoint, but beyond that, it's going to stay mostly stock looking. I plan on keeping it silver, having the decal kit replicated and replacing the wheels with fresh replicas with the same black face and polished step lip.
Editor's Comment
:
Great story Brad. Very nice CJ Project.