Biased about my MJ and TJ
by BW
(Bountiful, Utah)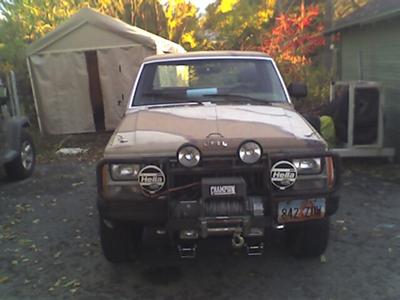 My Comanche MJ


I have a Jeep Comanche MJ and a Wrangler TJ.

I bought the MJ in Florida. I was looking for a 4-wheeler. I went to a lot and they only had 3 4WD's (and a whole row of Bronco II's). What are the rest I asked? The salesman said "two wheel drive"...to which I asked "You can sell those?" (I am from Utah and was there in Navy "C" school)

So I bought my MJ. Put some Mud Terrains and set off with my GPS to find the Highest place in Florida. I drove the Appalachian trail from end to end when I was transferred to Groton, CT. I drove it in a snow storm so bad that I didn't even know I was not on the road one time!

It was a good truck that just plain ran and ran. I thought it was on its last legs so I bout a Wrangler TJ. After I bought the TJ I found out that my uncontrollable idle and rough steering was all due to a bad motor mount.

So I have finally given the Comanche some TLC...lifted it, Novak shifter, welded new floor boards, Sure lock and I am thinking about a new engine. Got some 35's too!

I also love the TJ with its short wheelbase!



Larry's Comment: Those are 2 great Jeeps, B.W.

Hang on to that Comanche if you can. The MJ's are getting scarce with time...especially the 4x4 Comanches.