Black Beastie '84 CJ7
by Cheri
(Oxford, OH, USA)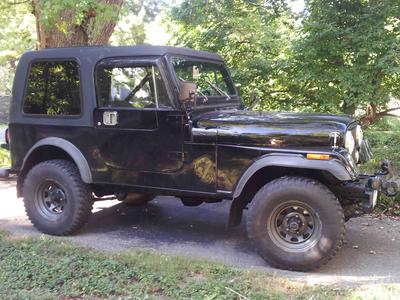 right side
I bought my 1984 CJ7 with a 1979 AMC 304 engine in 2011 to be an airplane tug for my Waco biplane, but then I sold the airplane.


I still have the Jeep. It has a Pintle hitch on the front that accepts a ring attached to a tow-bar for an airplane.
I've done some work on the engine, and had dual exhaust put on. Also had the body painted, the instrument panel redone, and a new hardtop installed. It had so many "squawks" that the list could go on and on!
Right now I need some information about the engine exhaust. What would cause the exhaust to leak into the cabin? I've already plugged up any holes in the tub and firewall. It is horrible to drive more than about 5 minutes in the thing for lack of fresh air, even with the windows rolled down.
It's a great Jeep, but the exhaust fumes are, well, exhausting!
Larry's Comment: Nice looking CJ7, Cheri!

Exhaust fumes entering into the cab are usually due to several possible issues:

1) a leak in the system itself. From the engine exhaust manifold to the exit tips of the tail pipe there can be leaks due to poor manifold gasket, header connection to tail pipe (bad doughnut seal), poor welds or clamps in the various lengths of tail pipe (especially at the catalytic converter and muffler);

2) a cracked exhaust manifold;

3) rusted through, pinched or damaged exhaust pipes;

4) rusted through, damaged or blocked catalytic converter or muffler;

5) tail pipe too short to where exhaust gases do not exit well and become trapped under the tub, then seep into the cab.

You can't completely seal out these invasive fumes from the cab when they leak from the exhaust system, even with the windows down. They can also be quite dangerous inhaling the carbon monoxide gases.

I suggest having the entire system checked for leaks. You can do this yourself, but a professional will have leak detector equipment to pinpoint even the smallest leaks.

Anyone have other suggestions to keep Cheri from getting even more "exhausted" ?