Black Betty '04 Rubicon
by Andrew
(Watauga, Texas)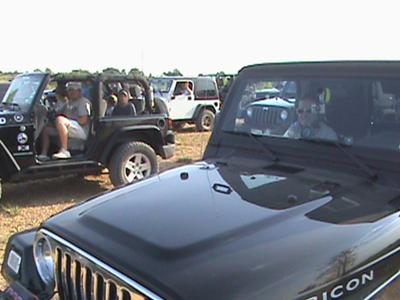 Black Betty at Jeep Club Run
I call my Rubicon "Black Betty." If you remember the 70's and a group called Ram Jam you might recall a song from them by the same name.


Since names such as "Rubi" or "Ruby" are over used and "Rubi-Kong" (brilliant) have been claimed, I settled on Black Betty. It only seems fitting. I like the song and the Jeep does kind-a go bam-ba-lam when I'm riding the trails. Being black doesn't hurt either.
Anyway, Black Betty was a bone stock 2004 Jeep Wrangler Rubicon when I purchased her in April 2010. Since then, like most Jeeps, she keeps getting newer, better looking, and more trail worthy every day.
Black Betty has been given a Pro Comp 2-inch lift, 32-inch tires, Pro Comp shocks with steering stabilizer, stainless steel header, Magna-flow exhaust, Spectre cold air intake (cowl induction), Pro Comp bumpers with D-Rings, Warn Winch and a Hi-Lift jack.
On the appearance side Black Betty has been dressed up with a chrome grill. Everything else, except for the rims, is blacked out including the aircraft style fuel door.
To help add to my listening enjoyment I installed a Kenwood stereo hooked to the factory sound system which includes the center console sub woofer. The song Black Betty from Ram Jam never sounded so good!
Lastly, to stay in touch with my trail buddies, I installed a Uniden CB radio. I guess I never wrote it all down before. It seems like it happens so slowly, but I've invested a lot into Betty.
I guess I now know what JEEP stands for...Just-Empty-Every-Pocket.
Larry's Comment: I can vouch for Andrew's "Black Betty" Wrangler Rubicon. This is one fine Jeep!

We have done a few trails together, and I have seen this Jeep transformed into an even more competent trail rig as Andrew has made some nice improvements to an already capable trail Jeep.

Also, check out Andrew's website for some great reviews of Off Road Parks and Trails throughout the country at WWW.Find-Off-Road-Trails.Com