Can't Believe This '94 XJ Was Free
by Lance
(Santee, ca.92071)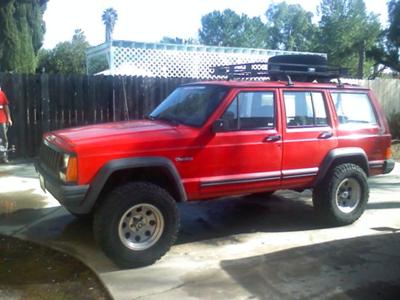 I am an electrician. I did some work at a customers house. I asked him what he was doing with the Jeep Cherokee in his back yard. To my huge suprise he told me to please just get it out of his yard.

It is a '94 XJ 2wd 4.0L H.O. I-6. It's stupid clean in and out. The only thing needed to run was motor mounts (of course), radiator, and tranny mount. So straight to Brown Dog Industries for the motor mounts, and other stuff at the local auto parts store.

Love my Jeep!


Larry's Comment: Wow! Lance...that thing really does look clean...and what a deal.

You were definitely in the right place at the right time. Enjoy your XJ.
Join in and write your own page! It's easy to do. How? Simply click here to return to Cheap Jeeps...Best Deals.