Cherokee Rubicon "Cherocon"?
by David Beran
(Transamerican Auto Parts)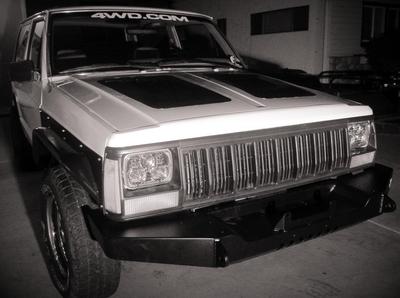 Project Cherocon: Building the Ultimate XJ (Part 1 of 2)


The world needs dreamers, and one man's dream to build the ultimate XJ is becoming a reality.
Project Cherocon is what
Landon List
calls his build that fuses aspects of a Jeep Cherokee with a Rubicon. It all started when he needed to replace his axles on his JK Rubicon.
"I was replacing my axles on my JK Rubicon with G2 Rock Jock Dana 60s and I decided not to put my Rubicon Dana 44s on the black market," says List, Jeep/4WD Brand Manager/New Products. Instead, he plans to build the ultimate XJ using his Rubicon axles. His vision is to innovate and build something that he's never seen built before.
"I'm doing a lot of reading on Forums like NAXJA.org and the Cherokee Forum to research on the best project feasible for the build," says List. NAXJA.org is the North American XJ Association and its forum features tech, fabrication, and engineering topics.
List sees the drivetrain as the XJ's weak link and decided to replace it. "I'm going for form and function, but if I had to pick I'd lead with function," he says.
The Cherocon build features parts including:
• A Rubicon 5.5 Extreme long arm kit
• Artech Industries JK 44 XJ conversion brackets
• A Hyline off-road front bumper and hood louvers
• JW speaker headlights
• Hooligan off-road tube fenders and rock sliders
He's optimizing the XJ to perform on the trail and on the rocks. "I want to run this rig at the Hammers, Rubicon Trail and at Moab," says List.
So far he hasn't experienced any major setbacks and his goal is to have it done in time for the 2014 King of the Hammers this February. Neighbor Daniel is helping Landon out and proving to be an enthusiastic worker.
"He loves to learn and with a project like this we're both learning as we go," says List.
We can't wait to see the results.
Coming up in Part 2: Pro Comp MT2s and a Smittybilt rear bumper join the build.
David Beran
is a Copywriter at
4 Wheel Parts
and
4WD