Female Jeep Fanatic!
by Flash
(Florida)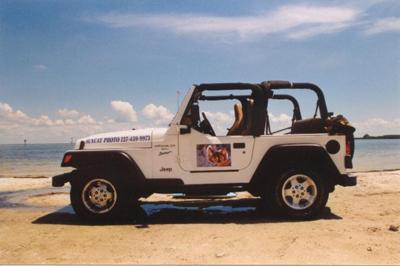 1997 Jeep Wrangler Sport
Back in the late 1970's when I was in college, a friend introduced me to off-roading in his bright yellow Jeep. It was so much fun that I was "hooked" immediately. At that time, I drove a 1967 Ford Mustang, but in the back of my mind I knew that someday I would buy a Jeep.


I bought my first Jeep in the year 2000. It was a 1997 white Jeep Wrangler Sport with a manual transmission and all standard equipment. Even though white was not my favorite color, I LOVED this Jeep.
I did not like the upper half doors with the zipper so I ordered upper halfdoors with slider windows from Quadratec. What a difference those windows made! They were much easier to open and close and they made the vehicle look sharper. I owned a photography business at the time so I had signs made to fit on the Jeep's doors. It was a real eye-catcher! (Please see Photo #1.)
In 2004, my stepfather bought me a brand new 2004 Jeep Wrangler X. It was Patriot Blue (dark blue) and it had an automatic transmission as well as cruise control. It was just about the most perfect car for me. Who could ask for anything more?
Well, probably within the first year of owning it I had a lift kit installed. Again, I added the upper half doors with the slider windows along with blue water-resistent neoprene seat covers. I also added my own little personal touches here and there which also made THIS Jeep a real eye-catcher. I planned to keep this Jeep for the rest of my life. (See Photo #2.)
However, when the economy first "tanked out" and the price of gasoline sky-rocketed to almost $4.00 per gallon, I realized that my '04 Jeep Wrangler X was getting horrible gas mileage (approx. 10 miles per gallon). When I had the lift kit installed, it looked really "bad a$$". I received tons of compliments on it, and I loved it. However, I did not know that the lift kit would cause a decrease in gas mileage. (Duh!) So, after much anguish, I decided to sell my 2004 Jeep Wrangler X and buy a used 2003 Mazda Miata.
At first, I loved the Mazda Miata but it didn't take me long to realize I had made a HUGE MISTAKE because I really missed my Jeep. I would have preferred to keep it and pay the outrageously high prices for gasoline. Of course, hindsight is 20/20. The Mazda Miata was sporty, fast and fun to drive but it had very little storage space.
Eventually, on a long road trip in June 2011, I got caught in a very bad rain and hail storm with my two dogs and all three of us were freaking out because it seemed as if the hail would beat right through the Miata's soft-top. It was during that hail storm that I decided I would sell the Miata after I got home and I would never buy another vehicle with
a soft-top.
In July 2011, I traded in the Mazda Miata for a very nice 2004 Jeep Liberty. It's my favorite color (blue), has an automatic transmission, power windows & locks, plus a sunroof. Since it's an SUV, I have plenty of cargo room for people and/or pets and/or whatever. This Jeep Liberty seemed like the perfect vehicle to meet my needs. (Photo COMING SOON.)
But guess what... my Jeep Liberty is nice, comfortable and roomy, but it's not nearly as much FUN to drive as a Jeep Wrangler. I began thinking about selling or trading in the Jeep Liberty for another Jeep Wrangler. However, my financial situation had changed dramatically from the days of my first Jeep so I couldn't afford a late-model Jeep because they have actually increased in value since I sold my beloved 2004 Jeep Wrangler X.
I tried to convince myself that the Jeep Liberty was perfect for me but I became obsessed with looking for Jeep Wranglers for sale. One day, I was driving down the street and I saw this cute 1989 Jeep Wrangler YJ for sale in one of the many small car lots alongside the roads in the area.
The exterior was in pretty good condition but the interior was a mess. I don't know why but I fell in love with it and decided to buy it and make it my "project Jeep". It runs but it needs a lot of work. It has obviously been neglected for quite a while which is indicated by the fact that it was very low on almost all fluids...oil, window washer fluid, brake fluid, clutch fluid, and God only knows what else.
At first, some of the lights and instruments on the dashboard did not work. However, the dealer fixed some of the problems and I got the rear brake lights to work just by removing and cleaning the contacts on the light bulbs and their connections.
This Jeep rides kind of like my grandfather's old pick-up truck but it's so much fun and I feel so free while driving it. I'm sure it will take me a long time and a lot of money to fix all the mechanical problems on this Jeep... not to mention eventually adding extras to sharpen its appearance. However, the first time I washed and waxed it, my best friend exclaimed, "Oh my gosh! It looks brand new!"
So I guess I am already making progress on my "project Jeep". I fixed the tail lights myself, and within the same week, just by washing and waxing it, this 1989 Jeep Wrangler looks brand new on the exterior. (Please see Photo #3.)
Of course, the interior of this Jeep is another story. I will probably post more pictures and ask a lot of questions in the future.
In summary, I have owned FOUR Jeeps, two of which I currently own. I think that qualifies me as a true female Jeep fanatic! :o)
Larry's Comment: Flash...you are indeed a true female Jeep fanatic...Jeep Lover...Jeep aficionado...and, all around Jeep Girl!