Finally got me a Comanche!
by Jared
(Edgartown, Mass)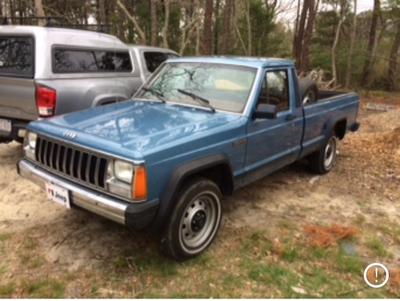 Title is lame I know:)


Like all of you, I've always loved Jeeps and they've always been a part of my life.
I grew up in the 80's and my parents had an '84 XJ, and then an '89 Grand Wagoneer. My father always regaled me with stories of his willy's that he had back in high school, back when 5 bucks would fill the tank and get you a 6er and a pack of cigs.
I grew up across the street from Millbrook Motors, a since closed AMC/Jeep/Chrysler dealership in Duxbury, Mass. I loved checking out all the Jeeps back then, and I always wanted a Comanche. I had a couple Wranglers, a '95 (wrecked it) and an '02, but I'd always been looking for a Comanche that wasn't rusted out or too beefed up.
I found my '86 Comanche in northern Montana this past winter. She's a 4-cyl 5-speed manual long Box with 57k original miles on her and she is all stock; pizza cutter white walls and all. The original owner drove her sparingly and took good care of her.
The burgundy interior and cloth bench seat are in mint condition aside from the headliner which will need some love down the road. I've replaced all fluids, shocks, and gave her a fresh coat of paint. Don't worry, re-creating the original decals is high on the to-do list!
I ripped out the carpets and was pleased to see only surface rust. I por-15'ed the floor and got rid of the drenched sub-floor and realized that the plasti-chrome windshield trim was leaking and sealed it up.
The original wheels are being refurbished and when I get new tread it won't be beefy but it will be a step up from what she's got now. My wife wasn't happy about the purchase at first but the Jeep has grown on her. We shipped it back east and it resides on the island of Martha's Vineyard.
Now I don't have to bug the other guy on the island with a Comanche about buying his truck!
Editor's Comment
:
Nothing "lame" about a Jeep Comanche, Jared. I've had my '87 Comanche for the past 20 years. Welcome to the Comanche club!