Four Top Destinations for Jeep Beach Wheeling
by David Beran
(TransAmericanAutoParts.com)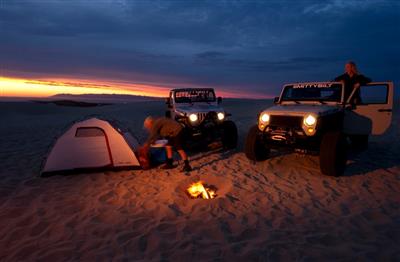 The annual Jeep Beach just happened in Daytona, Florida and sand is still firmly on the brain of many Jeep enthusiasts. What could be better than a beach drive in your rig with salt in the air and sun in your eyes?


Before you hit the beach in your Jeep be sure to call ahead or do the research online to find out which locations are vehicle-accessible and what kind of permit is required. Having four wheel drive is essential and remember to air down your tires to 15 psi to get better traction in sand. And don't forget you're going to have to pump your tires back up, so have the proper
Jeep parts and accessories
on hand.
Always start in the sand with tires facing straight forward and stay in low range, driving evenly without quickly accelerating or braking. If you're beach driving with friends the best approach is to drive in the tracks ahead of you where the sand is already firm.
Whether the destination is surf fishing, a beach picnic or just taking in the scenery and wildlife, your Jeep is a comforting companion. Here are a few stretches of sand nationwide that offer the best beach wheeling for Jeepers.
#1 Cape Hatteras National Seashore, North Carolina
In the mood to enjoy the longest vehicle-accessible beach drive in the continental United States? Cape Hatteras boasts 25 miles of beach driving (50 in the off-season). An ORV permit is required and ATVs and UTVs are prohibited. Night driving is prohibited from May 1 to November 15 to protect nesting turtles. Highlights include plenty of wildlife from birds to ponies and wheelers
are afforded clear views of the Cape Hatteras lighthouse – the largest U.S. lighthouse ever to be moved.
#2 Silver Lake Dunes, Michigan
There are over 2,000 acres of sand dunes in Silver Lake State Park nestled on Lake Michigan on the state's west coast. Highlights include the historic Little Sable Lighthouse, lake fishing, a bike trail, and amazing Lake Michigan sunsets. There are designated ORV areas and a Recreation Passport is required for all vehicles. Visit Michigan's Department of Natural Resources site to get the lowdown on regulations and other details.
#3 Pismo Beach, California
Beaches in the state of California that you can legally drive a Jeep on are few and far between and this makes Pismo Beach special. Parts of the movie Ben Hur were filmed in the Pismo dunes, but your chariot will be of a different sort. The sand is extra soft so it's a good idea not to wheel solo here in case you get stuck. The 1,500 acre Oceano Dunes has a vehicular recreational area allowing dune buggies, RVs, ATVs, SUVs, Jeeps and other 4X4s. 
#4 Polihale Beach State Park, Waimea, Hawaii
This remote white sand beach on the island of Kauai is challenging to get to, but once you're there you'll encounter a Jeeper's paradise. Kauai has more stretches of sand than any of the Hawaiian islands, and be sure to give yourself ample time to explore unhurried. Whales can be spotted from winter into early spring and you can also obtain a permit for camping. Check with rented Jeep regulations, because they're not permitted for beach driving.
David Beran
is a Copywriter at
4 Wheel Parts