Good Fortune CJ-3B
by Rich
(Lancaster, PA)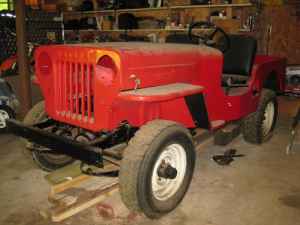 Don't let the dust fool you. The paint is perfect.
Checked Craigslist.org at the right time and found the vintage WILLYS of my dreams just a few miles away; a CJ-3B restoration that has now become a relay event.


The seller purchased the vehicle with a seized motor and a battered body 20 years ago. Rather than make it merely drivable he embarked on an extreme restoration. Effort, creativity, cash and the commercial services of an engine shop, transmission shop and premier body technician were poured into the project. Eventually the work got crowded out by offspring, business, motorcycles, etc. and the layers of dust built up for 16 years until the decision was made to sell.
Right time, right place and the WILLYS was off the market. It was mine. At this point it is, essentially, a no-bondo, beautifully painted assembly project where only a few components (Carburetor, Generator, Starter) aren't fully reconditioned and only the exhaust system and the consumables (tires, brakes, etc.) need replacement.
The assembly task is less daunting since I asked a friend with Jeep mechanical experience to sign-on before the down payment was made. There will be glitches, frustration and minor missing parts along the way but we can envision the outcome in the shine of the bright red paint.
Larry's Comment: Wow, Rich, great find!

Wondering if you got a good deal (price)? Sounds like a lot of the difficult and expensive work has already been done.

Keep us informed as to your progress on this one if you don't mind.

Also, what year is your CJ-3B? Thanks.