GRAND CHEROKEE OVERLAND SAVED MY LIFE AFTER ROLL 7 TIMES
by DANNY
(46133)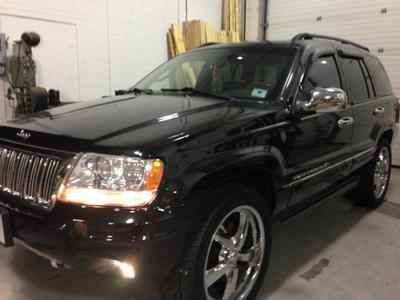 It needs 4.7L HO
THEY PUT ME IN FRONT PAPER. WIFE WANTED TO KILL ME. I ALMOST SUCCEEDED. I TRASHED HER 2004 GRAND CHEROKEE OVERLAND. IT WAS PRETTY WITH CHROME, AND 20 INCH RIMS. NOW I AM LIVING PROOF GOD IS REAL.


I NOW HAVE A SECOND CHANCE. I HAVE TROUBLE WALKING WITH A BAD BACK, BUT I'M LIVING PROOF GOD IS REAL AND HE GAVE ME A CHANCE. I HAD TO FIGHT 5 YEARS TO GET DISABILITY. I HAVE 4 HERNIATED DISK IN MY LOWER BACK. IF THE JEEP HAD SIDE AIR I'D BE OK BUT THE AIR BAG NEVER EVEN WENT OFF. I ALMOST LOST MY HOME.
I GOT MY BACK PAY AND PAID A GUY (YOUNG GUN LIKE I USED TO BE) TO RIP THIS ENGINE OUT WITH A BAD VALVE. CAN ANYONE HELP ME FIND A GOOD MOTOR FOR A OVERLAND 2004 4.7L?
Join in and write your own page! It's easy to do. How? Simply click here to return to Jeep Cherokee and Grand Cherokee Reviews.