Grandfathers '47 Willys Stationwagon
by Louis
(South Africa)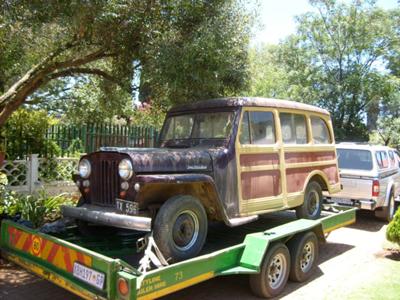 I am busy restoring my grandfarthers 1947 Willys/Jeep Stationwagon.


I waited since 1988 to get hold of the Jeep. When my uncle passed away in 2010 I managed to buy it out the estate for R25 000=00 ($3550).
My dad told me how all 5 kids with grandpa and grandma used to travel 100's of miles with the Jeep. As a child we used to sell veggies with the Jeep in the town of Potch here in South Africa.
My heart is in this vehicle and surely I will not get rid of it.
Louis van der Walt
Johannesburg, South Africa
Larry's Comment: Wow, Louis...your grandfather's Willy Wagon is a beauty!

Keep us up-to-date with your restoration.