I Love my Jeep!
by Nohra-Cecilia
(Kamloops, BC, Canada)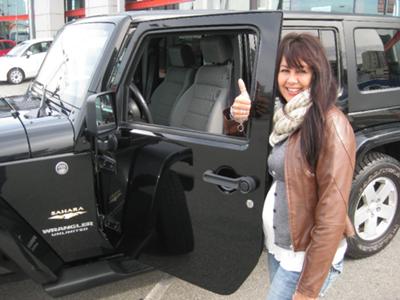 The day I bought my jeep...
I have always loved Jeeps. In fact, the small ones because they are very cute, but a few weeks ago I ended up having the Wrangler Sahara Unlimited 4 x 4 because it fits better with my style of life.


For me this type of Jeep is more convenient, stylish, and comfortable for the passengers. It is also very strong, fine, and gorgeous. I love it because it makes me feel great when I'm driving it because it's so big! I actually have trouble getting in or out of it because it is very high, but that's what I like the most from my Jeep and that it's so tuff and I feel so feminine and delicate driving it.
For me it's like riding a bull, and that makes me feel strong, confident, and why not say it...sexy as well!
Larry's Comment: Nice looking Wrangler JK Unlimited there Nohra-Cecilia.

There is definitely something positive to be said for increased passenger and cargo space...and of course 4-wheel drive.