Jeep Renegade attracts wildlife?
by Steve Daniels
(Buchanan,TN,USA)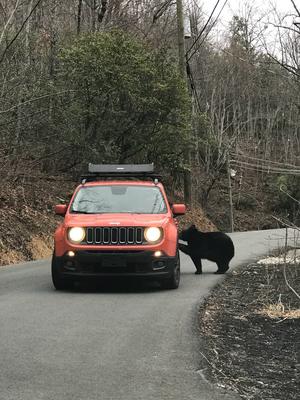 HEY! NO HITCHHIKING
While in Gatlinburg, TN New Year's Day 2018 we saw bears in a cabin's driveway.


We stopped and this black bear was instantly drawn to my 2015 Jeep Renegade. Was it the color orange? Was it my Rhino Rack on top? Cool tires? Or maybe just a vehicle full of wonderful smells; peanut butter, chocolate, popcorn and caramel apples. Anyway he came over for a closer look, sorry little fella, no joy rides here.
Second pic was the first week back to work. A buzzard also tried to hitch a ride, not so lucky. $2000 in damages. By the way these hoods are aluminum...can't repair...lol