Jeep Stained Glass Hanging Lamp
by Guy Laurin
(Gatineau, Québec, Canada)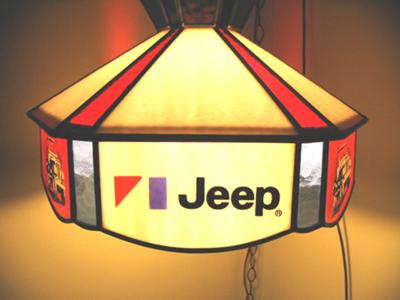 This handmade stained glass lamp belonged to my late Father who worked as an AMC dealership manager back in the late 70's.


It stayed hidden away in the garage for years (for close to thirty years I'd say). As I was cleaning it out, I found it and brought it home.
A little cleaning and voilà! Pristine condition and made in Canada, I've searched the internet but cannot seem to find another one like it. The stained glass is done up in the AMC colours.
Hope you like it.
Larry's Comment: That lamp is a beauty, Guy!

I don't think I have ever seen one like it before either.

If anyone who sees this knows more about about these lamps (or maybe has one), please send your comments below, or send your photos and a submission as well.