Jeep Toy Run Harrison West Fraser Valley BC Canada
by Camron Bell
(Rosedale BC)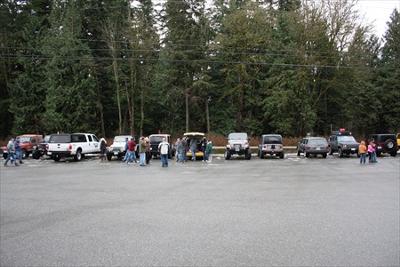 Some of the group
Well it's that time of year, and not that any owner of a Jeep needs an excuse to go out wheeling...


A local Jeep Club has an annual Christmas Toy Run to support the toy bank. We usually pick trails for both Stock Jeeps and Modified. This year we had about 40 Jeeps and a few non-jeeps in attendance.
This is a whole day event that starts off with everyone meeting up at the Sasquatch Inn. It's about a 20 minute drive to the gravel road where we air down. Then it's another 30 minutes to the turn off to the trail (Hail Creek).
At the bottom you can see Harrison Lake and all the surrounding mountains.
Larry's Comment: Sounds like a lot of fun Camron...and for a worthy cause as well.
Join in and write your own page! It's easy to do. How? Simply click here to return to Your Favorite Place to go Jeeping.