JEEP WRANGLER YJ 2.4 TDI LAREDO
by Haris Jurada
(Viškovo, Croatia, Europe)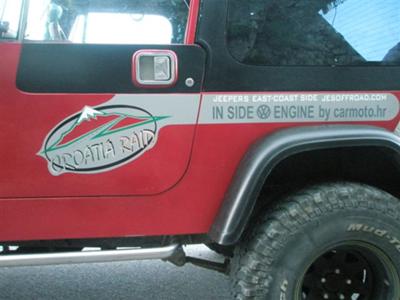 JEEP YJ WRANGLER LAREDO 4.0L 1991.


Now with Volvo/VW engine 6 cylinder, 2.4 TDI.
Sky Jacker (model "Soft Ride"), 4 INCH kit
EURO hook.
Axles 4:11.
Webasto.
Snorkel from Land Rover.
Rear DISC brakes, from GRAND C.
2X rear shocks, from CITROEN Saxo, insted Control Arms.
HARD TOP, (model: LAREDO).
Tires. BFGoodrich, 33 x 10,5 x 15.
CV Rear Driveshafts, and Slip Yoke Eliminator
2 x Saddle Bags.
Euro Tail rear lights.
CB – "Midland".
etc.
Respectable. 4 The Love of Jeeps
My OFF ROAD offers travel, and I have 6 years of experience. I've already worked with the Italian clubs. (Team Desert Scorpin - Milan, JES offroad - Udine, Gorizia - Offroad Planet,)
I'm in position to offer off-road travel across Croatia, for all types of off road cars, even for SUVs. All types of accommodation; CAMP-s, and 3 star hotel, (depending on area) for all members of the family, for adventurists, for the Explorers, and for OFFROAD-ers! My trips include not only OFF ROAD, but also tourist guide, a lot of gastronomy, monuments, etc..
My offerings begin with the region of Gorski Kotar (region immediately after on the border with Slovenia) regions to the north east of Croatia.
And for summer, Dalmatia - Zadar.
If interested contact:
00385-91-536-31-26
Haris Jurada
haris.jurada@ri.t-com.hr
CROATIA / EUROPE
Larry's Comment: Haris...is the '91 Wrangler YJ your personal vehicle, or is it used only for guiding folks on tours? Nice rig...and I like the VW 2.4L turbo-diesel motor.

If I ever get to Croatia it would be fun to tour the country by Jeep