Junk Yard Jeep Liberty Keeps Rolling
by Ernie
(Birmingham, AL)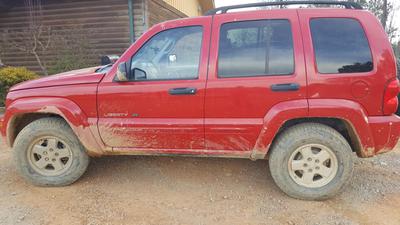 I was on the hunt for a cheap vehicle I could take my daughter off roading in. I found my 2002 Jeep Liberty Limited in a salvage yard with 200,000 miles on it. It ran like garbage, and was nasty inside but I saw potential.


I paid $1500.00 for the vehicle and drove it home. I then began the work to make it a reliable vehicle for me and my daughter. I spent about $600.00 doing basic maintenance, replacing some sensors, replacing window regulators, and getting the front end fixed. I then took it on a 2000 mile road trip and had a blast. My Liberty took good care of me.
Recently I took my Liberty on an off road adventure. I met up with a Wrangler owner and an XJ owner and we hit the trails. They all had bigger tires solid front axles, and more clearance than I did. They decided it was rock climbing day. My Liberty faithfully drove over and through everything the other Jeep owners did. The other Jeep owners were quite impressed. I dragged my Liberty over many a rock that day. The skid plates held up and she never failed me.
I have a Cadillac as well as my Jeep and when I walk outside I always pick the Jeep. What a fun vehicle to drive. Best $1500 I ever spent. I am quite pleased with my purchase.
Editor's Comment
:
Great story Ernie. I love taking something beat up, old, and/or different, and having fun doing what others do in their expensive rigs.