Landi Jeep
by jaskarana
(atla kalan (mansa))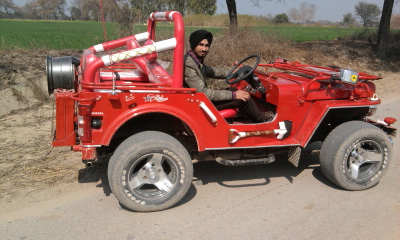 jaskarana


Red colour di 22g apni jeep hai jo syad tuhanu pasand ayegi thanks!


Larry's Comment: Sorry Jaskarana...it appears you are saying that you may have a combination of a Land Rover(?) and Mahindra(?) Jeep. I'm not sure.

I was also unable to find a translation for your submission. (I got "Red colour", "jeep" and "thanks") Can you help? Anyone? More detail about this rig would be helpful (i.e. base model, make, year, modifications, etc.)

Please include English translation if possible. Thanks.
Join in and write your own page! It's easy to do. How? Simply click here to return to Jeep Stuff.