Mahindra Economy
by JEEPER
(KERALA, INDIA)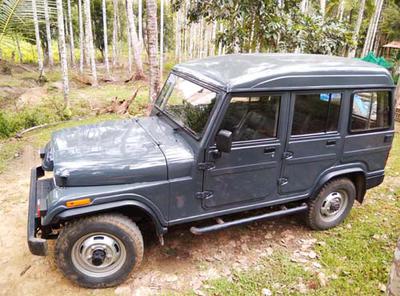 "Mahindra Economy" - It's a very rare model of Mahindra with a combination of Mahindra DI engine, 4-wheel drive, and new generation chassis and suspension. It's a sibling of Mahindra's famous model "Marshal".


I got this vehicle in an auction by Forest Department in very good condition as it was used for the Forest Research Institutes in campus travels. Almost in stock condition.
Powering with a 2.5-L MDI3200 A diesel engine that delivered a peak power output of 58 hp while the peak torque output stood at 161 Nm. This engine came mated to a 4-speed gearbox which was operated using a single dry plate type clutch. In addition to this, the Marshal also featured a 4WD drivetrain with dedicated high and low gear ratios. The suspension setup on the other hand consisted of semi-elliptical leaf springs with hydraulic double-acting telescopic shock absorbers at the front and rear.
Moreover, the 2000 model of the vehicle also featured vacuum-assisted booster brakes for effective braking. The brand also boasted an improved steering system, new generation chassis, improved suspension setup, and electro chemically treated body shell for protection against rust.
Additional data includes:
KMT90, 4-speed Gearbox
T18, Spicer, 2-speed single lever Transfer case (4WD)
105.5″ Wheelbase
57" Wheel Track (Front)
53″ Wheel Track (Rear)
Stock Tyre size of 185/85 R16
What I like is it's a JEEP! and what I dislike is I only like JEEPS!