My 1973 Mahindra CJ4 Jeep
by Justin
(New Zealand)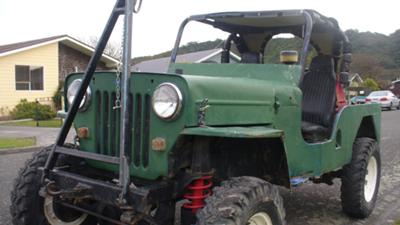 This is my old girl, a '73 CJ4 Mahindra.

She's in New Zealand and has taken me places I wouldn't even be able to walk. She has a 3300 Ford motor, Jeep gear box, Toyota differentials and Land Cruiser coils on the front.

I've had her for about 1 year and have had a lot of fun. So that's that! MY JEEP!


Larry's Comment: For those who don't know, only one known prototype Willys/Jeep CJ4 was produced in America.

However, Jeep was licensed in India after World War II and Mahindra&Mahindra continued to assemble and build their versions of Willys Jeeps.

For a number of years Mahindra produced a Jeep version which resembled the American Willys CJ3B...and as can be seen by Justin's photos that resemblance was there in 1973.

Thanks for showing off your nice Jeep, Justin.
Join in and write your own page! It's easy to do. How? Simply click here to return to The Mahindra Jeep.