My '99 TJ
by Karl Bauer
(Essex Junction VT)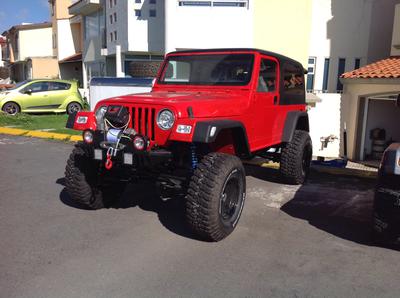 This is the Jeep I talked about in the Story "TJ or Willys, It Depends"


It is the Jeep which I shipped from Germany and which brought me through half of the US from Florida through Hurricane Katrina to Mexico City to Las Vegas to the Rubicon Trail to Utah, Chicago, Toronto, Buffalo, back South to Mexico City, Acapulco, copper Canyon and many other places not leaving me down at any time.
When I left Mexico and went back to Europe for my Job I sold it to a friend in Mexico and when I returned I bought it back.
Then I cut it in half, made it an Unlimited, made some 9" Ford axles Front and Rear, put a Chevy 4.8l Gen4 with a Tremec 3550 five-speed out of a Mexican GMC pickup, Genright Safari Gas Tank, Leather Seats, and a Warn 8274 winch.
I built it to do a trip around South America and if I will be able to, travel back to Europe via Russia, crossing from USA and Magadan in Russia. Take the Road of Bones in Siberia and then to Himalayan Mountains to Taschkent and further on to the Black Sea Europe.
Only in a Jeep! The only thing that might change my mind is my Willys. I am still thinking of take it instead for "the Trip" but that is a different story.
Editor's Comment
:
Wow, Karl...you are the definition of a world traveler...and in Jeeps...how great is that? Keep us up-to-date on your adventures.

Also, that is one nice '99 TJ. Love the "Unlimited" extension and the upgrades. Thanks.