My Australian Willys Pickup Project
by Paul Beck
(Australia)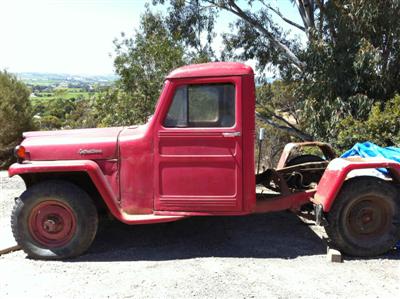 I have attached photos and the only data plate I found for my Willys Pickup. I think it is an early 1952 model that was built in Australia under licence from Willys overland. (It is right hand drive).


I have been driving this truck for 23 years. As long as I have known it has not been registered. We used it on the farm for more than 20 years, mainly for hay and firewood.
It was always kept undercover but abused a bit.
It went into the dam twice due to brake failure and a tree landed on the roof once. The interior was basically non-existent. The seat was a box! Now it has become my responsibility. I want to restore it fully as it has sentimental value.
So far I have taken the cab off and it is getting restored by a professional as there is quite a lot of rust. I have got all the drive shafts, axles, fuel tank, lines and cables, etc off. Now I am up to getting the 226 Super Hurricane 6 cylinder engine out.
I expect the project is going to take a couple of years. My objective is to restore it as much as possible to stock condition and use it to drive into town.
Any help or advise you might have is greatly appreciated.
Larry's Comment: Paul...from what I can gather your Willys Pickup is indeed a Jeep licensed by Willys Overland and built in Australia for Australians (right-hand drive).

My research indicates that these trucks were often not carefully recorded, and the serial numbers were not always consistent with identifying the model and year.

Also, the Willys pickups saw very little change during the 1950's, further making them difficult to identify the year produced.

However, one thing that I noticed about your truck was that the rear cab window is full-sized, which according to my source wasn't introduced until 1954-on.

Also, the initial 5-digit serial number (55168) seems to be consistent for this model truck from 1955 through 1964. The "551" prefix indicates a "cab and chassis" rig with the fourth digit "6" indicating the six cylinder engine, and the fifth digit "8" indicating 4-wheel drive.

This five digit prefix also falls within the range of 226-6, cab and chassis pickup serial numbers produced in 1955.

So, if I had to make an educated guess I would say that your truck is probably a 1955 model, assuming that all of the parts are original.

Either way Paul, I hope you enjoy rebuilding your truck, and please keep us up-dated on the progress.