My Dream Jeep.
by Bill Gehrt
(Alliance, Nebr.)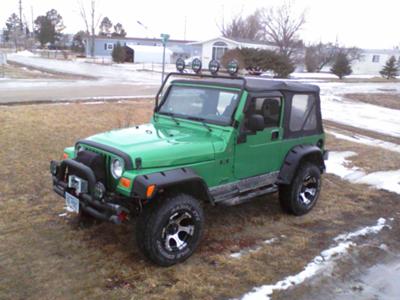 I always wanted a Jeep Wrangler, so when I came down with lupus and had to retire I said 'what the heck' and bought one.

I made a mistake by going on ebay and looking at all the neat Jeep accessories..lol. I swear a fella could put a million dollars into a Jeep.

What a blast though! I don't do much off-road, but I sure get a lot of compliments on my lime green Jeep.

Thanks to all the people who make neat things for us Jeep Lovers.


Larry's Comment: Nice Wrangler TJ, Bill!

I like the "lime" green color, too! You should not have any problem finding your Jeep in a crowded parking lot, that's for sure.
Join in and write your own page! It's easy to do. How? Simply click here to return to Your Jeep Page!.