My Grandfather's 1964 4x4 Willys Jeep
by Indervir Shergill
(Bazpur, Uttarkhand, India)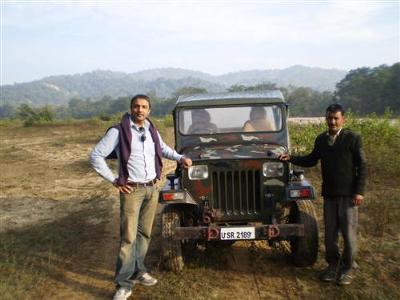 This Willys 1964 model Jeep was bought by my grandfather when my father got married. My grandfather was in the British Army and after his retirement he settled on a farm in the foothills of the Himalayas.


That area was forest land, with several tigers, leopards and cross country roads leading up to the farm. This Jeep traversed cross country roads for approximately 3 decades, and then was mothballed for a decade.
Upon my grandmother's demise in 2008, my father decided to refurbish the Jeep. I was bestowed the task of selecting the color and overseeing repairs.
We removed the left hand drive and made it a right hand drive and put in a diesel engine in place of the earlier petrol engine. We've kept the original chassis, gear box--with 4x4--and added a power steering to aid maneuverability.
I'm still using it on my farm and take it off roading, as shown in the pictures above. I take it on river beds with huge boulders and it glides over them like a walk in the park.
I only trust this Jeep because the river bed is home to tuskers and tigers, in India's largest Tiger Reserve in the foothills of the Himalayas.
It's simply awesome...and one I'd trust my life with. It's already served 3 generations of "Shergills"...from Grandfather to Grandson!
Larry's Comment: Great story Indervir!

Is your Jeep one that was manufactured under license by Mahindra and Mahindra?

The reason I ask is because it has many features of the American made Kaiser/Willys CJ3B (tall hood and grill)...however, it also has some features that I don't believe were ever part of the American CJ3B such as the rounded front fenders, instead of flat fenders, rectangular headlights instead of round headlights, and 4 point hood latches instead of two on the original USA made CJ3B.

Either way it is a nice looking Jeep!