My Jeep XJ Kicks Ace
by Christian
(Auburn, Alabama)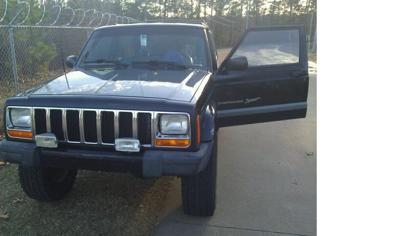 I have had it for about 5 years now. I put a 4-inch Fab-tech suspension lift on it, and have been putting it through hell since I got it.

It's a 2000 two-door Cherokee XJ. It's black and a tree fell on it so I changed the grill and head light billets to all chrome and stuff like a space ship. It looks cool enough.

I love my heap of a Jeep. My little brother has an '07 Tahoe and I could get one myself, but I am gonna be buried in my Jeep. All I know is I will never be able to tell the stories worth hearing to strangers, but let's just say that thing has been my best friend.

I got big plans for it when I have some money to dump on it. Lots of great times in that thing. Cut donuts, rode through creeks, ran stuff over, gotten stuck once or twice, broke a u-joint and got lucky.

Yeah, that thing kicks ace...kicks bass!


Larry's Comment: You definitely qualify as a 'Jeep Lover', Christian. The Cherokee XJ is one of my favorites.
Join in and write your own page! It's easy to do. How? Simply click here to return to Jeep Cherokee and Grand Cherokee Reviews.