My Topless CJ7 Update
by Dave
(Michigan)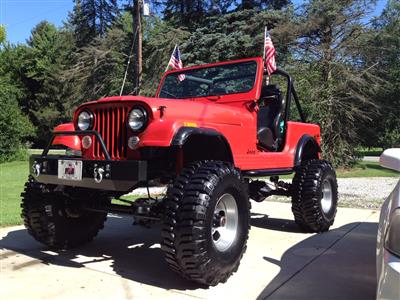 My Updated Topless CJ7
The original post is here: Topless CJ7.


We have done a few changes since then. Not much of the CJ drivetrain is left other than the springs.
Mustang 302 HO;
NP435 4 speed;
205 TCase;
F250 axles;
Dana 44 front;
Dana 60 rear;
Spring over with frame outboards;
Stretched axles to gain driveshaft length;
Custom hi steer steering with heims;
Tom Woods driveshafts;
38.5" Boggers that double as steps to get in;
Custom roll bar set up in progress to incorporate tire carrier and 5 point harness mounts.