My ZZ383 YJ Wrangler - Hot!!!
by Tom
(Albuquerque, NM)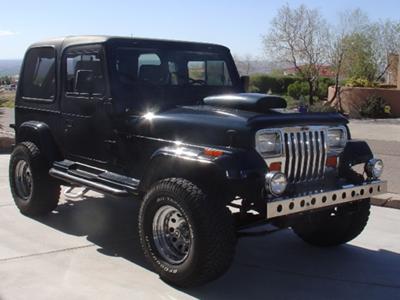 Mean Stance!
420HP Jeep Wrangler


This is the hottest Jeep in New Mexico. This one will shut-down Firebirds, Mustangs, Camaros and even Corvettes!
In fact this hot-rod is a Corvette in Jeep clothing. Features include:
1. ZZ383 Engine ? (383 Cubic Inches / 425 Horsepower / 449 Lb.-Ft. of Torque)
2. TCI Corvette 700R4 Street Fighter Transmission
3. Full-Time Posi-Traction Rear End with 411 gears
4. MSD Ignition System
5. Edelbrock High Rise Intake
6. Edelbrock 650 CFM Carb
7. Disc Brakes on all 4-Wheels
8. B&M Ratchet Shifter (Full-Time Auto or One Gear at a Time)
9. Oversized Radiator and Electric Fans - to keep it all Cool
10. Six-Inch Lift Kit
11. Midnight Blue Paint
12. 33 Inch Tires on 15 Inch Chrome Wheels
13. New Front Bucket Seats
14. Many, many other extras
This small-block Chevy Crate Engine makes big-block power. This combination of GM Fast Burn Aluminum Performance Heads and a 383" Stroker Small-Block adds up to 425 horsepower and 449 lb.-ft. of torque.
The Fast Burn heads have large 2.00"/1.55" valves and specially designed chambers that draw in lots of air and fuel, burning the mixture quickly and completely.
It's a combination that generates great mid- and high-rpm power, which, when combined with the 383 cubic inch displacement, creates an awesome all-around performer.
If you stomp on this one, you
will pop a wheely or spin the tires - no in between!
The ZZ383 has a specially modified engine block and 3.80"-stroke crankshaft, which produce 383 cubic inches of pure performance.
The reciprocating assembly is comprised of heavy-duty components including a 4340, nitrided, and induction hardened forged crankshaft, and unique heavy-duty powdered metal rods. It's 425 horses of bulletproof performance.
The TCI® Street Fighter® transmission is tough enough to withstand the rigors of even the toughest street machines. Designed for vehicles powered by engines producing 450 horsepower.
Equipped with TCIs Manual/Automatic valve body, you are able to manually shift the vehicle into each gear change or, by placing it in the drive position, remain fully automatic. In either mode, you get a racetrack shift that bangs through the gears and shaves time off your ET's.
When you use the manual gear selection feature, the Street Fighter® up-shifts and downshifts right when you move the lever - no lag or governor override.
When you select the normal drive position, the transmission retains positive, automatic shifts for the ease of driving you look for in an automatic transmission.
Larry's Comment: Wow! Very nice Tom!

Do you still have 4x4 capability? If so, do you use it off road? Is your YJ mostly set-up for street and strip? The tires look like AT's in the photos. Thanks