Nasty Nash Henson/Keith Racing Jeep
by Rick Keith
(Sonora, Ca)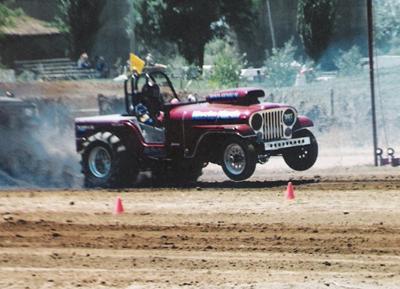 A/CM Marysville, CA Injected Alcohol
Nasty Nash A/CM Henson/Keith Sand Drag Racing


Builder & Crew Chief Boyd Henson, Sonora, CA
Has 377 SBC Dart Heads, Kinsler Fuel Injection, Lenco 2 Speed.
Started as Street Legal B/SM Jeep. Modified to single seater and ran A/SM. Set NSCA National Speed Record, NSCA A/SM Points Champion, NSCA overall Points Champion.
Modified to A/CM with Injected Alcohol and Lenco. Has won races at Albany,Or...Marysville,CA...Hanford,CA...Mexicali,Mexico...Salt Lake City,Utah...and Pismo Beach,CA to name a few.
Rick Keith retired from driving due to 6 back surgeries. Looking to go racing again with Boyd Henson's Son as driver.
Larry's Comment: I've got to admit I really like watching sand and mud drag racing...as well as any NHRA event. Nice rig, Rick!