Newman! The '84 DJ5 Postal Jeep
by DeAnna
(Boerne, TX)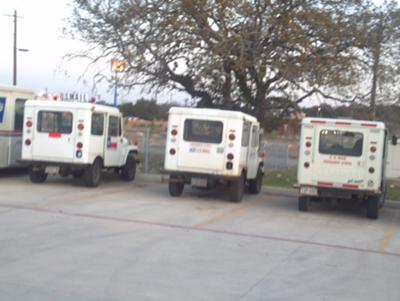 3 Girls Running Old Postal Jeeps (including Newman) and Still Working for the USPS


I'm a Jeep Girl all the way!

I drive my DJ5 everyday, ok for work that is. My Jeep was made for delivering mail and does it better/faster than the newer LLVs. People can't believe this 1984 still runs and can handle the volume of mail the Big Dogs can.

I'm pretty proud of Newman and will never part with him. Just need to switch from darn drum brakes to disks so I'll stop passing mailboxes.

BTW...Two other women at my office have old Jeeps they love. Might just be A GIRL THING.


Larry's Comment: DeAnna...this is the first DJ5 Postal Jeep submission I've received that is still being used for mail delivery.

Just goes to show that there are "Jeep Lovers" everywhere with every kind of Jeep.