'ol Blue the Jeep
by Kirk and Shellie Chilcoat
(Lockesburg, Arkansas)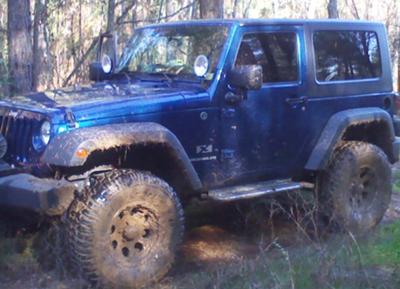 Our 2009 Jeep Wrangler JK aka 'ol Blue!
Always wanted a Jeep since I was a child, but never could afford one with getting married and the kids growing.


Then one day the wife decided she wanted one and to trade her Chevy in on it. So I said yeah "go for it, never liked Chevy's anyhow"..thought they were over-rated.
So before the kids got grown and we were too old to climb in it we decided to get one. Then, she said if it's not blue we are not buying it. So, we looked for three months and finally found one in Hot Springs, Arkansas that was not $26,000 and was brand new. At that time is was a 2009 model and the only new vehicle we ever owned. I wish I had one a long time ago. Best money I ever spent and the most fun.
We put a three and a half inch lift and 33 inch tires and we're still adding stuff.
Larry's Comment: So who gets to drive 'ol Blue the most...you or your wife?

From the photos it looks like you are getting a lot of good use out of Ol' Blue.