Old Yeller my 1988 YJ
by Rachel
(Houston, Texas)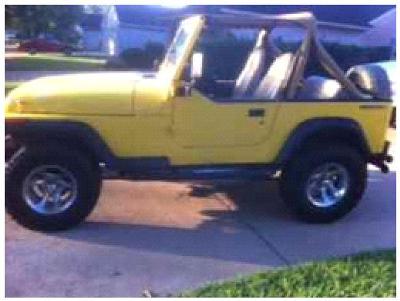 Hi, my name is Rachel.


I live in Houston, Texas and bought my first Jeep 3 months ago at age 32. It's an '88 Wrangler YJ with a 4.2L motor, rebuilt AX-15 tranny, and dual exhaust.
It has a new starter, alternator, radiator, water pump, all done in last year, a 3" lift and 33x12 BFG tires, and awesome Marine vinyl seats.
My love affair with Jeeps started early. I still remember driving into the little town I grew up in (Normangee, Tx) with my grandfather (a Saturday morning ritual) in one of his old cars. This day happened to be his '49 GMC truck. I saw a Jeep Wrangler coming down the street and immediately fell in love. "What is that?!" I exclaimed pointing at it. "That's a Jeep. That's what I used to drive in the War." Unfortunately, Grandpa was not fond of Jeeps, so when I was older and wanted one, I was always talked out of it.
Fast forward about 15 years and now a 19 year old in college..I still longed to have one. It wasn't in the cards at that point as a poor college student trying to survive.
That year, summer after my freshman year, I started getting sick. I didn't know it at the time, but it was the beginning of a long battle with a rare disease and a medical community that didn't know how to help me. I could no longer carry a full load, and work the 40hrs needed to make it, so I moved out of that small college town to Houston to find a better job and finish my degree part time.
Around this time I met my husband and married. My career was going well and we bought a house. A few years after this my disease had done so much damage that I was just so broken. I finally had enough and launched a fight with every doctor to get this diagnosed and cured.
I knew it was Cushing's Disease, but doctors said it was so rare a cure wasn't possible. I just refused to believe it. I ended up going to a specialist in LA and was diagnosed quickly. One year and two cross country trips for major surgery later I was cured. But it was still going to be a couple of years for my body to heal and recover from all the damage done. Also, since I had had it for so long, I was forced to trade one disease for another.
Remarkably, I am just after year 2 now and doing great. Still have a little ways to go with muscle and bone rebuilding and losing the rest of the weight gained from the disease...but I am almost there.
My husband knew I had always wanted a Jeep. Every time we drove anywhere and passed by a Jeep I
would whine "Jeep, Jeep!" I had stated before that after I beat this I wanted to see about getting an old Jeep as an "I beat Cushing's Disease" gift to myself.
So one month before the 2 year anniversary of my last surgery...I bought my Jeep. I love it so much and every moment I am not with it, I miss it. (I know, a little crazy) :)
The day when I met with the previous owner (who had it all it's life) to check it out, I drove it with hubby in the back seat. I turned around and he had a huge smile on his face. I asked what he thought and he quickly exclaimed "GET IT!!" It was definitely the best one out of about 5 that we had checked out. We immediately bonded...haha.
The owner was asking $4700, which was a heck of a deal...but money was tight and it did not have a top. So I asked if he would be willing to take lower $4k's since I would have to spend quite a bit on a new top. He agreed, and when the transaction was made, he handed me back $500 and said use it for your new top. He was a great guy.
But, now, I don't want a top. I park it in the garage at home and work, so no biggie. The marine vinyl makes it a little easier to live with it wet when we do get stuck in the rain...so I think I will leave it open air.
It just got a tune up, new belts, new spark plugs, new distributor cap and wires, valve cover needed replacing, wheel cylinders and brakes all new.
This spring I am taking it up to my dad's where we will take the seats out, get rid of the old spray in liner and put in new molded vinyl liner. Then, we will replace the rusty steering wheel. The dash is in better shape than most YJ's I have seen, so with this done, the interior will look great.
Down the road when $$ allows, I plan to get a fresh paint job, keeping the yellow (that was my first color choice so I got lucky), maybe add a chrome grill cover or something. Even though there is no A/C (which is unheard of here in the crotch of the USA) it is still a great drive. I don't know if adding A/C down the road is feasible...but either way I am keeping this baby for the long haul.
Thanks for reading my long winded story… See ya on the trails.
~Rachel
Larry's Comment: First of all I want to say how blessed you are to have conquered your chronic disease.

With that said, you do deserve to have your pride and joy '88 Wrangler YJ...for you are indeed a certified "Jeep Lover".