Restoring a Mahindra CJ 500DP
by Vikram Singh
(Jorhat, Assam, India)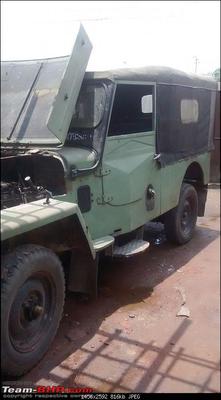 As bought
The jeep was bought off a scrap dealer. It has a Peugeot XD4.9P diesel engine with 62bhp.


The original configuration had the rear bench modified to front facing. I have retained the same but made it into a convertible. Have added a spare fuel can, and sand channels. It's a continuing project and I intend to tow a camping trailer behind it.
The works done were a complete overhaul of all mechanicals, brake lines. The aluminum head was changed as the previous fuel nozzles had stuck to the brackets and had to be pried out. Everything has been kept stock.
It runs on 6.00X16j rims. The pictures show how it was initially and during the work in progress and to the present. The top and doors are completely removable and for most of the months in the year it goes around top less.