Saved YJ's from a Scrapper
by Dave H
(Modesto, CA)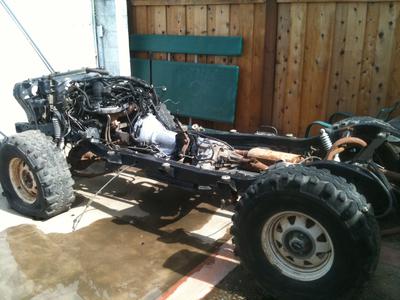 The beginning a '95 roller
My father-in-law is a scrapper. He hauls off anything someone wants to get rid of and sells it for scrap. He does this to augment his retirement.


While visiting his yard, I noticed two Wrangler YJ's sitting in the back of a pile of corrugated steel roofing. I asked what he was going to do with them. He said he was going to haul them off for scrap. I told him I would buy them from him. He said I could just have them if I helped him load the corrugated steel.
A couple of days later I was unloading these YJ's at my shop. The '95 had perfect running gear but was a rollover (at least 2 full rolls) and didn't have a straight panel on it. Plus it didn't have a title. I pulled the tub off and stripped it of all salvageable parts as well as all brackets and mounts.
The '93 had already been stripped of the drive train. Only the axles remained. It was in a front end collision and the right front frame rail was bent up just forward of the tub so badly it would virtually stand on three wheels. I pulled the tub, windshield frame and left front fender and scrapped all the rest. Only keeping all of the salvageable parts for future use or sale/trade.
With the '95 being a rolling chassis, I began a 6 month long task of cleaning, repairing, and rebuilding the entire drive train and chassis. I freshened up the 2.5 Liter I-4 ( which only had 70k miles on it) by replacing all the rubber, full tune up, valve cover gasket and , of course, all the fluids. The factory automatic had apparently been recently rebuilt, so I left it alone. Some new brakes all the way around and a fresh coat of black rattle can paint made the frame shine.
I then turned my attention to the tub. A neighbor, who is a retired panel beater, helped me with the few dings and dents on the tub and fender, and got it ready for paint. All along I was scouring Craig's list for the parts I needed to complete my build. I was also posting surplus parts for sale or trade on CL.
My first find was a right front fender and hood from a guy just two towns over from me. I bought them for $30. He also had a set of aluminum wheels with bald 31 10.50x15s. They held air and made good rollers. $20 for the set. I found a grille with radiator and A/C condenser in Reno for $50. It even had the chrome overlay and headlight bezels. A few more trades, sales and purchases off CL and I had all my parts that needed color.
After many hours of sanding and
priming, It was ready for paint. I chose Chrysler "Flame Red". A guy I work with is a hot rodder and has a make-shift paint booth in his shop. I hauled all of the body parts to his place and he taught me how to paint one Sunday afternoon. I hauled the now beautiful parts back home, and a week later began cutting and buffing.
By the next weekend I began assembly. All of the prep work (chassis cleanup, wiring harness repair, soft part replacement, etc.) really paid off. The body was reassembled,including rollbar and dash, in just under a week! I located a column shift, tilt steering column on eBay for $165 (the most expensive part to date) and fitted it in the assembled body. A new battery, radiator and 5 gallons of gas in the tank and she was ready to fire up.
On New Year's Eve 2011 I turned the key and fired up the little four banger. It chugged and sputtered a little while the gummed up injectors cleared their throats. It was ALIVE! After almost a year, I drove my Jeep from the shop to the front of the house to show the family. Over the next few months I picked up some of the remaining things on my shopping list.
Seats, (I only had one torn up one and the back fold and tumble) I got those from a new found CL friend and fellow firefighter. He just gave them to me since we are in the same brotherhood. I picked up some nice aluminum 10x15 rims for $40 and the spent the next two weeks polishing them out.
My son got a set of BFGs from a friend of his after a new tire swap. These are 33/12.50/15s. A little big for the 2.5 w/ auto, and only about 20% tread left, but what the heck, FREE TIRES? I'm in. I've since sold the 31s and most all of the other surplus parts. I even traded two tail lights for a TJ bumper with KC lights on it.
I had my freebee seats reupholstered with light gray marine grade vinyl by an old friend for $200. And picked up a whole brand new Kentrol stainless hood set for $20 from a guy who got it with a Jeep he bought to turn into a crawler.
I still need to Monstaline the floor and put in a stereo and speakers but I now take it out whenever I can even if it's just to the store. It's still a work in progress but then what Jeep isn't? Hope you enjoy the pics of my build above.
Dave H.
Modesto, CA
Larry's Comment: Very nice build, Dave. Just shows that you can do a lot on a small budget with a little shop, swap, and sweat. Thanks