Solid Axle Upgrades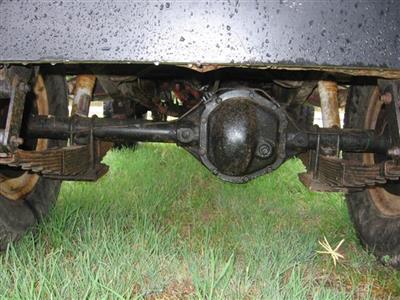 A solid axle most often refers to axles housed in a solid tube frame with a differential housing and differential carrier gears designed to drive the wheels when power is applied through the drive train.
The Jeep Wrangler and previous "universal" style Jeeps with 4 wheel drive have a solid axle up front as well as in the rear.  This gives the vehicle a very rugged front suspension necessary for a Jeep's intended purpose...which is to go places where most vehicles can not go.
Today, however, more and more 4x4 vehicles (including the rest of the non-Wrangler Jeep stable) have gone to the more road friendly Independent Front Suspension (IFS).
2014 Jeep Grand Cherokee Independent Front and Rear Suspension System

Since all 4x4 rigs are a form of compromise between on-pavement use, and off-road use manufacturers appear to be leaning more and more toward the "on-pavement" end of the spectrum.  Although a good IFS can be very reliable and perform well in many uses, it cannot (yet) match the durability of a time tested solid axle in many off-road situations.  The complexity, reduced durability, and cost of repairs is the greatest weakness of the Independent Front Suspension on a 4 wheel drive vehicle.    Comparatively, the simplicity of a solid straight axle suspension translates to less breakage and fewer dollars spent on repairs or replacement.
Beefing Up the Solid Axle

So, what if your 4x4 Jeep with an existing solid axle is not as strong as you might like for the type of uses you put it through?  Many older Wranglers and CJ's came from the factory with relatively weak front axle units, and many have the very unpopular Dana 35 rear axle which is known to snap axle shafts under moderate to severe use (i.e. rock climbing, and hill climbs).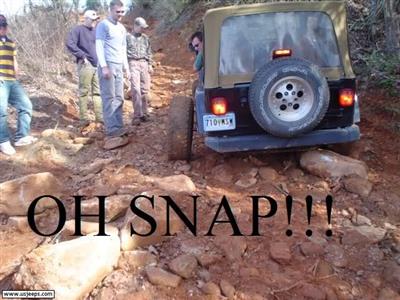 Broken Dana 35 Axle Shaft with C-clip retainer Allows the Wheel to Fall Off with the Snapped Axle.

Another common issue faced by off-roaders and on-pavement Jeep owners alike is the differential gearing (ring and pinion ratios) not being appropriate for their needs, especially if they added larger than stock tires, or increased weight to their Jeeps, such as with a winch, body armor, heavy bumpers, rock sliders, tire carrier, etc.  Gearing that is too high (low numerically such as 3.07 to 1 ratio) can make your rig sluggish not only on the trails, but also on the highway.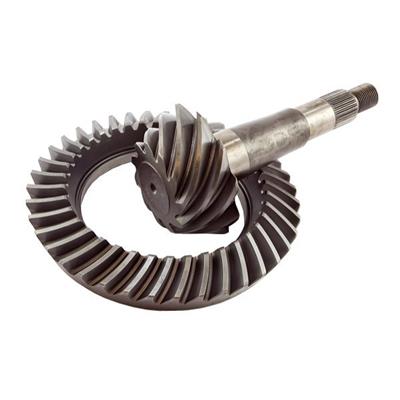 Dana 44 Ring and Pinion Gears

For example, my 1995 Wrangler YJ 4.0L six cylinder came with the factory 3.07 to 1 gearing ratio that worked fine with stock sized tires and wheels, but when I added wider wheels and 33" tires I found sluggish performance both off road and on the highway.
My 1995 Wrangler YJ

Fortunately for me the Wranglers with the 2.5L 4-cylinder engine came from the factory with the same axles as the 4.0L...the only difference being that these had factory 4.10 to 1 gearing in the differentials as opposed to my sluggish 3.07 to 1 ratio.
Solution:  I went to my local Jeep salvage yard and found the 4.10 axles out of a 4-cylinder Wrangler.  I then swapped these axles with my stock axles for a perfect fit.  Now I have a good balance with my combination of tire size, engine, and gearing.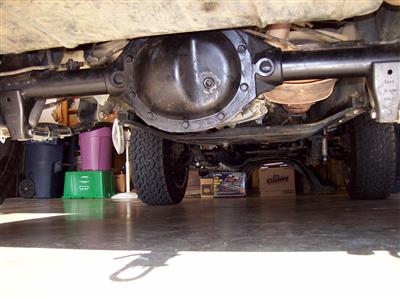 Yes, I still have the weaker Dana 35 Axle in the rear, but for now it will do with the improved 4.10 to 1 gearing until I can again change to a sturdier axle set-up later.

There are a number of possible solid axle axle swaps for Jeeps including swapping in different ratios of ring and pinion gears, high quality axle shafts, and various lockers...all of which is to improve overall performance and fine tuning of your rig for the way you choose to use it.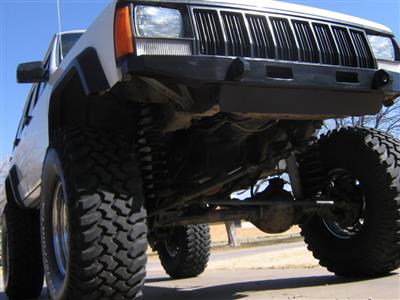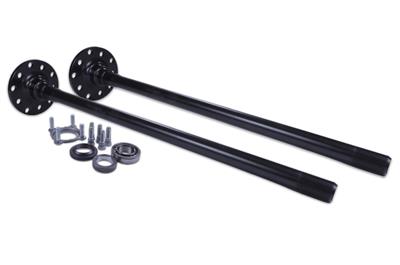 RCV Performance Products Heavy Duty Axle Shafts Kit

You can find Solid Axle Upgrades as well as just about anything Jeep Axle related through high quality Jeep Parts and Accessory Vendors.