Sreejith, a Mahindra fan
by Sreejith Chengazhassery
(Perumbavoor, Kerala, India)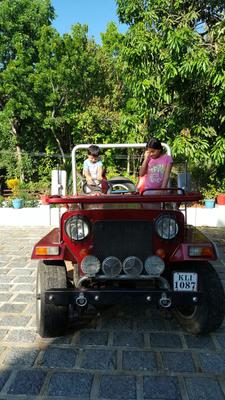 My kids examining the jeep after I bought it
I was born and brought up in a remote village in Kerala, a green state on the southern tip of India. The village is nestled in the valley of a few hills that are part of the Western Ghats mountain range, that separate the states of Kerala and Tamilnadu.


As a young boy, I fell in love with 3 automotive icons of that age - the Royal Enfield Bullet motorcycle, the Mahindra Forward Control pickup truck, and the Mahindra jeep. Until early 1990s, our village had no blacktop roads, and it being mountainous terrain, Mahindra vehicles with 4-wheel drives were our lifeline.
We used to call the 4-wheel drive mechanism "Hanuman gear", as a mark of respect to the deity in Ramayana, who is the epitome of physical strength.
My family had a farm and we used to own a 1969 Kaiser (predecessor to the Mahindra), which served our family in carting people and goods all over the place. Back in 1999, after we sold the farm, we sold the jeep as well.
Now-a-days, we have a blacktop road passing through every nook and corner of the village and we don't need these hill-climbers anymore. However, I felt quite nostalgic about spartan vehicle and recently acquired a 1970 Willys (most likely to be Kaiser only), fitted with a 1996 Mahindra engine.
I have some knowledge of Mahindra jeeps, as I learned driving in one. I have had to do quite a bit of repair work on the same in my youth - flat tyres, upholstery, changing bulbs, hoses and belts, tightening loose nuts and bolts, and what-not. I own a Mahindra (heart of Mahindra, body of a Willys/Kaiser) now. I love Mahindra jeeps.