The toughest trail yet for my CJ7: BLACKTOP!
by Gryphon
(Sierra Vista, AZ)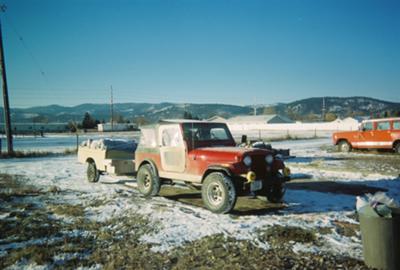 day before leaving
A number of years ago, we decided to forsake the winter freekin' wonderland of Northwestern Montana for the desolate broiler of Southeastern Arizona.


Regardless of the reasoning, we were faced with one particular problem: how to get there.
It was decided that I would go first, get set up and then fly back, meet the movers truck and drive the family down. We had a Toyota 4Runner as out family rig and my daily driver was an old CJ7.
I scared up a small utility trailer, made from an ancient Datsun pickup. I loaded it with my essentials for survival: my camping gear, tools, house stereo and BBQ grill. I went to good ol' AAA for some maps, checked with Mapquest and set out first thing in the morning...
...I finally got out of town at 10:30 am. Yeah, off to a good start.
As I pulled out of my hometown, gesturing my deepest feelings for the town and some of it's people out the window, I noticed the dark wall of thunderhead clouds rolling in over the mountains...in February.
The winter storm chased me and my over-loaded 1000+ pound trailer and soft-top Jeep all the way to Blackfoot, Idaho, where it caught me.
My plan had been to make Provo at least before I stopped for the night. By the time I got near to Salt Lake City, I was overrun with the storm. The roads were too slick to stand on, much less pull a heavy trailer over with a lightweight Jeep on oversize tires.
Yup, motel time. Reading the AAA guidebook by flashlight while creeping at 25 mph on the freeway, dodging sliding cars and a cell phone call got me a cheap room close by. I slid in a little after 10pm.
By 6am, I was headed out again, 2 feet of snow sagging my ancient OEM soft-top. Over a foot of snow remaining on the freeway, I left the hubs locked, rolling 4-lo, weaving around stuck and spinning minivans and ducking the occasional 4x4 SUV careening by.
Doing 15 mph got me past Provo/Orem where the lake-effect heavy snow began to let up. A few more miles and I had to pull off and unlock my hubs.
By the way: if you have an all gear-driven transfer case and a manual transmission, do yourself a favor and learn to double clutch. It was nice not having to pull over to get out of 4-lo when the freeway started moving again.
South of the mountains, everything cleared up, the roads were just wet and my windshield washer pump died a smoking, squealing death. Oh well, bottled water splashed on the wipers works too.
Anyone who has driven the 15 through Southern Utah knows well the stretch of annoying expansion joints in the concrete freeway. For whatever reason, they are spaced just right (just wrong?) for a 93 inch wheelbase vehicle. After just a few miles, the harmonic thumping was driving me nuts. After 100 miles, I was ready to throw up.
Wow, here comes my turn-off! I was directed through Zion National Park by the map. I though "cool, I can see some pretty stuff on the way!". Yeah. After paying my $25 fee to get through, I found out that if I had waited FIVE MINUTES I could have gone for free! Yay.
Having never been to Zion Park, I soon found out why the ranger at the gate looked at me so oddly. I was really glad for only a 93 inch wheelbase as soon as I hit the twisties! I was too white-knuckle to see anything with that trailer on, pushing me all over the place!
I was thrilled to reach the end, pull over in the ditch on the other side and relieve some hydraulic pressure into the weeds. And yes, you better believe I tossed that $25 receipt into my moving expenses!
A few hours later, I was still driving along the straightest, loneliest stretch of road I have ever seen...remember, I grew up in Montana. I thought Eastern MT was straight, flat and empty!
Soon though, my 80's metal revelry was interrupted by some odd mechanical noises. At first, I thought the 258 six was having issues, but as I downshifted to pull over, I noticed my T-5 trans was especially sloppy! Even the shift rod was getting warm!
I had replaced the fluid a couple months before, and checked it the night before
I left, so I knew it had plenty of good fluid, but guessed that the trip through Zion's switchbacks and the long run in 5th gear (soooo grateful it wasn't a 3-speed on that trip!) had just overworked the old case. I could see the lights of my stop: Page, AZ ahead, so I kept on.
The next morning, my trans was cooled down and shifting fine, so off I went again! Little did I suspect that today was to be the craziest day of driving of my life.
As I dropped down towards Flagstaff, I encountered some wind. I also lost power and had some rather severe steering problems. I pulled over to check it out when I realized what had gone wrong: the wind! It was blowing so hard I thought my top would literally blow off!
Continuing on, the wind slacked as I reached Flagstaff. As I passed through the town and rolled over part of old Route 66, I was enjoying the day and relaxing again.
For a little while.
Then I reached the passes. Two thousand feet elevation to 7000 feet elevation in how many miles was that? Three? Yikes!
So, I spent the next several hours going up and down the passes, rolling with the semi trucks: 35 mph in 3rd gear, foot to the floor uphill, 80 mph, both feet on the brake downhill! I passed many a minivan on that stretch, only to be passed again on the uphill side.
One especially steep downhill was quite exhilarating as it was accompanied by a Peterbilt grille in my rearview. No truck, just the grille. At 80+ mph. Downhill. With an overloaded trailer. In an old Jeep. Yes, quite fun.
We hit the bottom and I rolled into a truck stop, swung into a parking slot and watched a long-nose Pete pull in next to me. I slid out, pulled my driver's seat out of a dark, stinky place and re-installed it in the Jeep.
The Pete shut down and the driver slid out and pulled his seat outta his stinky place and lit up a cigarette. Newbie driver, his first time over these passes too, lost a shift and wound up in the wrong gear headed downhill and had to ride it out. I made the trip in neutral, both feet on the brakes, speedo bending the needle against the stops at 85mph.
We chatted as we walked off the shakes and hit the road again. We hung together until he turned off just north of Phoenix and I drove on, straight into the maw of Hell itself...
You see, I was accustomed to 8 foot wide lanes on the road. Phoenix seems to have mandated 6 foot wide lanes on the freeway. I rolled into town at 1:30 pm, right into the rush of afternoon traffic.
My new Summit Racing sourced mirrors had been blowing into quivering dangling decoration by the winds. My windshield was nearly totally obscured by grime and my side-windows...well, it was a soft-top Jeep with an OEM style top.
The "windows" were scratched to opaque oblivion and coated with more grime than the underside of my Jeep. Oh yeah...I had a trailer on with an engine that made 110 hp from the factory 20-some years and 200,000+ miles before...with 3.31 gears, 31 inch BFG's...so 65 was top end without a really freekin' steep hill to fly down.
Freeway traffic in Phoenix: 75 to 85 mph. Suddenly I was the "trail obstacle"! With traffic careening around me, horns blaring, no visibility and my trans getting hot again, I plowed ahead.
To my great relief, the truck drivers were right, I ignored the maps and stayed on the freeway as it swung East, then South and became the 10 freeway. Had I followed the road signs, I would likely have died, lost and over-run in the depths of the sprawl by the Sky Harbor airport.
Happily, my day was nearly over. Four hours later, past some horrid construction in Tucson, I arrived in a teeny little town in the Arizona desert. I would soon be whooping it up in the washes and arroyos, 'wheeling to my heart's content, my Jeep and I back in our element...with the horrors of the toughest trail we had ever taken behind us.
Larry's Comment: Although it probably wasn't too funny at the time, your story is hilarious.

These true adventure stories are more fun to read than any fiction. Thanks!