What Do You Want From Jeep?
by Larry H. Morton
(Texas)
Concept Jeep
Chrysler/Fiat (or is it Fiat/Chrysler?) now firmly has the reins of the Jeep brand. Sales seem to be pretty good. More people than ever have jumped onto the seven slotted bandwagon. Marketing is pretty cool for the most part.


So, what's next? Jeep has always toyed with new concepts, or new improvements on established platforms. But, what does the consumer want?
If you've noticed, the trends of being innovative and different have become a thing of the past in the automotive industry. Car companies prior to the early 1970's used to pride themselves on being different and willing to take risks. Almost every year the new models looked radically different from the previous years, giving customers more styles and options to choose from.
Also, the customer could order the model and accessories he or she wanted. If you wanted all power, no power, or a mixed bag of power options it was doable often to the extent of being shipped from the factory to the dealership as a special order if needed.
Why do you think most vehicles today are pre-loaded with a myriad of standard features that years ago would have been on a long list of options for the customer to choose from? Well, that's another topic for another time.
Getting back to "what's next?" for Jeep. I hope that
your comments
below might provide some tasty meat for the folks at the Jeep division to chew on.
What do you think would be innovative, practical, or even outrageous for Jeep to consider in the near or distant future?
Any and all ideas are welcome
.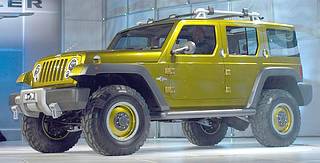 A simple example is one that I have thought about for a while. How about a full sized (SUV) Jeep Wrangler with great on and off-road capability, plenty of storage and passenger space...with a big honkin' diesel engine. Hmmm?
Larry H. Morton
4-the-love-of-jeeps.com