WHAT'S THIS? I just wanted this old Jeep Comanche.
by Paul
(Sub of Cleveland, Ohio)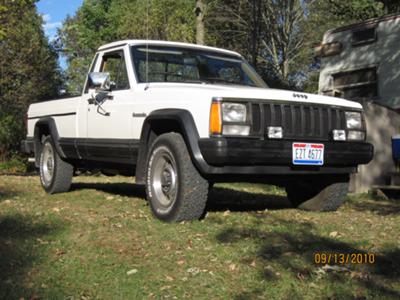 I purchased this 1987 Jeep Comanche in August of 2010. Only drawback, it's a 4x2.

I'm thinking, no real fun like a 4x4. So, less than a month later, I purchased a 1998 Cherokee (yes 4x4) so I can have some real off road fun.

I never owned a Jeep until last month. Now I have 2 and thank God for an understanding wife.


Larry's Comment: Nothing wrong with a 4x4 Comanche Paul! Great midsized pickup truck.

You balanced it all out with the 4x4 Cherokee XJ so now you can go haul firewood, move furniture, go 4-wheeling, safely go through snow and ice, look cool and take your wife out in style.

We'll see how understanding she gets when the Wrangler bug bites...ha!

Join in and write your own page! It's easy to do. How? Simply click here to return to Jeep Cherokee and Grand Cherokee Reviews.