Zoe, A TJ Wrangler Dream Come True
by John Wlock
(PA, United States)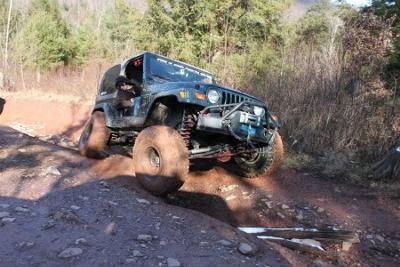 I always dreamed of having a Jeep, as I grew up, walking through parking lots and seeing the huge lifted Jeeps.


I loved them, I loved off-road activities as a child always finding new trails in the woods on four wheelers with my friends. I knew I was gonna have a Jeep when I grew up, and my dad always said, "Just keep saving your money and you can get one someday, you can get whatever you want." I did exactly that, always saving dollar by dollar, and finally bought my first one, a '95 YJ when I was 15.
I later sold that one and decided to get myself into a TJ about a year later, I decided to build this one into what I really wanted now that I had more money saved up and a better job.
I've now been building "Zoe" my '99 green Sahara TJ 4.0L 5-spd. and she sits on 35's with a 6" lift, SYE, winch, D30/D44, and some extra little goodies such as a CB, lights, bumpers, tire carrier, and LEDs. It's been a dream come true and I'm going to continue building her with no intent to get rid of her.
The best part of it all is having my Dad come out and help me wrench on it. It's the best feeling in the world and great bonding time. He's taught me a lot and the Jeep carries so many memories already.
She does pretty well on and off road as my daily driver. I wheel it pretty hard but what's wheelin if you aren't breaking anything? It's a great Jeep and I love the way it's turning out.
Larry's Comment: John...that's a tough looking rig!

You've apparently built-up your TJ very nicely. The 1999 Wrangler TJ is one of my favorite models.