1978 Jeep J-20
by Dave
(Wisconsin)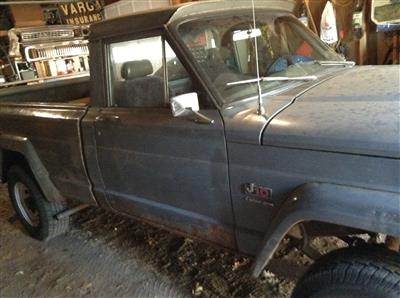 J10 emblem is incorrect. It is a J20 Pickup.


Mine's an AMC J-20, V-8, TH400, Quadra-track with a 2.5" suspension lift.

It has a 9000 lb. hidden front mount winch and a 7' box. Currently it has 32" LT Discover A/T Cooper tires on white spokers.

Someone swapped the AMC 360 cu.in. for a GM 350 cu.in. V-8 - big mistake! Just a work truck, off road beast with rear locker.

Replaced a 1973 Jeep Wagoneer I had for 33 years, which was probably the best Jeep I'll ever own!

Dave


Editor's Comment: Love those old full sized Jeep pickups, Dave.
Join in and write your own page! It's easy to do. How? Simply click here to return to Brag on your Jeep truck 4x4!.