Your Jeep Truck 4x4 (4x2 and 6x6) Page!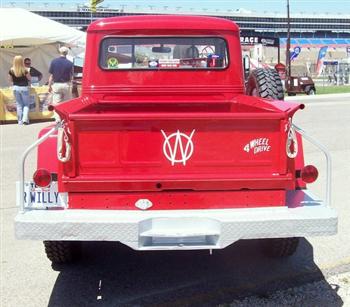 1962 Willys 4x4 Jeep Truck


My Jeep truck 4x4 Comanche pickup has been a sheer joy to own and drive for the past 17 years or so.

Most Wrangler, CJ and Cherokee owners like to brag on their Jeeps...so I thought many of us Jeep pickup 4x4, 4x2 and even 6x6 owners are just as proud of our rigs as well.

There have been no factory Jeep pickups built since 1992. That may change but the fact is the remaining Jeep pickups are getting older...and fewer. Many have been crushed, or stripped for hard to come by parts.

Those of us who rebuild, restore, or simply maintain our Jeep pickups tend to hold on to them. Why? Because they are really cool trucks. I use my Comanche 4x4 as a daily driver, work truck, and bad weather runner.

It's also nice to have a not-so-common rig that doesn't look like every other pickup on, or off the road. The civilian Willys/Jeep pickup debuted in 1947, and went through several incarnations before being discontinued after 1992.

So here's a chance to show off your truck...from the early classic Willys days; the tough J-series pickups; the odd but cool Forward Control FC; the military rigs; up through the last Jeep pickup built...the venerable Comanche MJ (1986-1992).

Send in your Jeep pickup info and photo(s) using the form below, and don't forget to scroll all the way down to see what other Jeep truck owners have submitted.


---
Are you proud of your Jeep truck 4x4?
Then prove it by telling us all about your pride and joy.

We don't care if your truck is "show quality"...or not.

If it's your Jeep truck 4x4...then its condition is not important (we'll just assume that it is a work in progress...okay?)

Describe your truck in your own words and send at least one photo (up to 4 in all).

Tip: Clear photo(s) and more detailed information will help to get your rig published.

Thanks
Other Jeep Truck 4x4 Stories Submitted!
Click below to see contributions from other visitors to this page...

What if they built a really cool Jeep truck 4x4...today?



---
Are Jeep Trucks Good Buys?
Find Out For Yourself!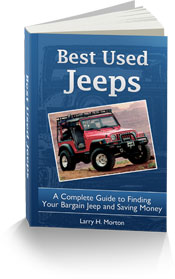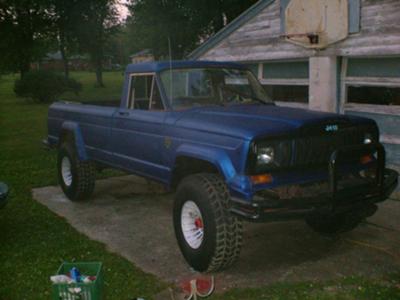 Denver sent us this nice 1983 J20 Pickup with 360 V8, 4.11 axles, and Hummer tires...(click photo for more!)


(Return To Top Of This Page)