1983 Jeep J-20 "the bear"
by Denver
(Clarksville, IN, USA)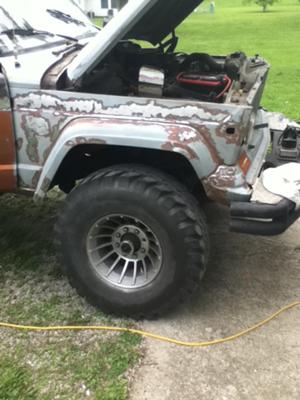 This is my '83 Jeep J-20 I call "the bear".


It is currently undergoing some body work and getting ready for paint. My father gave me this truck when I was around 22 years old.
This thing has been nothing but a joy to drive. It is by far my favorite vehicle I have ever owned. I've had this thing in places that some people can barely hike.
I absolutely love this truck and I wish that the Jeep corporation would get their stuff together and stop producing little baby Jeeps and bring back the bad boys of yesteryear.
Larry's Comment: Hey Denver...I hope that Jeep doesn't get rid of the "baby Jeeps", which I assume would be the Wranglers.

However, I am with you all the way that Jeep should bring back the "bad boys of yesteryear"...or at least another solid pickup.