1987 Comanche to Drive Occasionally and Store Every Winter.
by Paul
(Cleveland, Ohio.)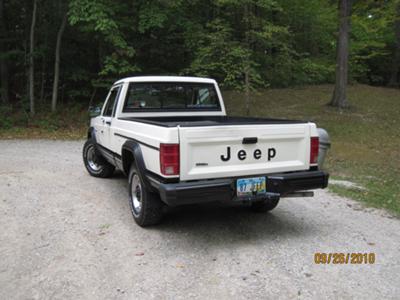 I found this '87 Comanche truck for sale in my neighborhood. I said to myself, that's a clean one, so I bought it.

Thank God I am old enough to give it TLC and it stays home even on chance of rain days.

It has factory air, the straight six, power steering & brakes. It's a 4x2 (2 wheel drive) with a five-speed transmission.

It's missing a factory radio and has a fancy am/fm/cd instead. I wish it had the original radio.

The air is cold & everything works as it should. Like I say, I'm old enough not to try changing or fixin' something that don't need fixin'.

I am still learning a lot about Jeeps, and I read and learn in buckets on this sight.

Paul from Cleveland, Ohio.


Larry's Comment: Your Comanche looks to be in pretty good shape Paul!
Join in and write your own page! It's easy to do. How? Simply click here to return to Brag on your Jeep truck 4x4!.