1988 Jeep Comanche
by Shannon
(Dickson, TN)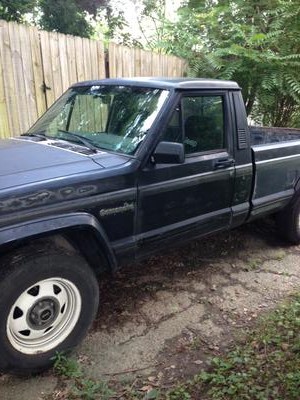 I bought this little lady for a song. It is mechanically sound, but needs a lot of TLC in the interior and some on the exterior, mostly sandpaper, primer and paint.

I need someone to tell me where to start. I feel a little overwhelmed.


Editor's Comment: Nice find, Shannon.

Everyone has a little different approach to restoring their vehicle. Even though your Comanche is mechanically sound I suggest starting with any unseen issues like brakes, new fluids, tune-up, filters, etc.. Get the truck running and operating well. It's nice to have a functional running truck while you take your time doing the cosmetics.

Then focus on the interior, followed by the exterior. There are numerous internet forums and helpful articles on paint and body work, as well as interior upgrades.

The Comanche Club forum (link below)is a good start for info and discussion with other MJ owners.

Comanch Club.

Maybe other readers will have more specifics to offer you here.
Join in and write your own page! It's easy to do. How? Simply click here to return to Brag on your Jeep truck 4x4!.