'78 Jeep CJ7: Wild Italian Stallion!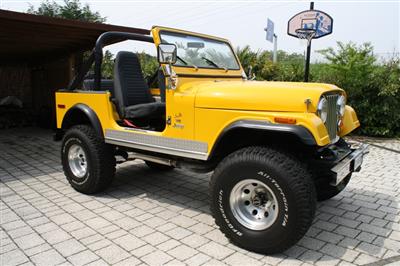 This venerable Jeep CJ7 came to life in the glory days when AMC Jeep began building rigs that appealed to the younger generation of the times...and not just for utility purposes.

The owner of this beautiful yellow 1978 "Italian Stallion" is Cristiano who happens to live in Italy (that's Italy in Europe, not Texas by the way).

This all began when he emailed me about finding a particular part for his CJ, and in the process of answering that question I asked if Cristiano would please send some photos of his Jeep because it sounded very interesting.

And send photos he did. I was blown away! This yellow 1978 CJ7 looks awesome!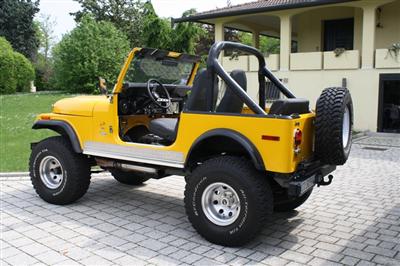 So, then I asked him if I could feature his Jeep on my website...and Cristiano graciously agreed.

I will let him tell you more about this Jeep in his own words...and although English is not his first language I think you will get a good idea of what this nice CJ means to him...and I will try to help edit a little where needed.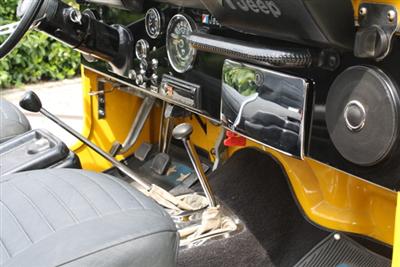 Cristiano Writes (1st email): Morning Sir,

I am Italian....you will sorry my bad English. I am fall in love of a Jeep CJ7 (1978) found a few months ago.

Is not 100% original, but I love it so much...the body is in fiberglass...and the engine (I read somewhere) come from a Jeep J (AMC 401, 6.6l V8...amazing power).

The entire car is perfect and kept in a maniacal way (shining and clean)....huge wheels (35/12.5/15).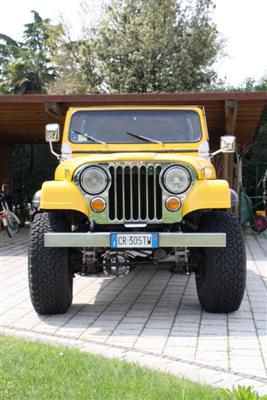 Cristiano Continues (after my response...2nd email): Thanks for your help. Let me see what I can (add) from here.

Concerning my yellow toy...wow...I am really proud you like it...I mean...coming from you is for sure the best compliment ever!!!! Thank you so much!!!

So..."his" true story (the Jeep) start in Germany (1978)...it moved to somebody in Swissland few years later...and then someone took it to Italy.

Finally myself and "him" (the Jeep) meet each other in 2005 into a garage, dusty and dirty (the Jeep was not kept very well...small tires strange and not original decals on it...light rust on the top).

Anyway, the writing "on sale" on it kept my attention...uhm...mumble, mumble..."nice"...I thought...then (the) mechanic start the engine...(and) the V8 401 AMC start to play the most beautiful music I ever heard.

Thirty seconds later the car was mine.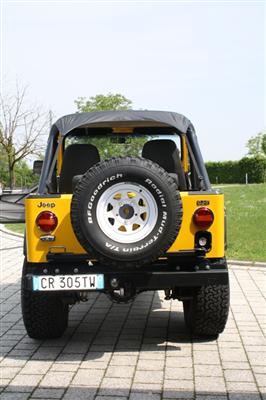 (It) is a CJ7, 1978, V8 401 6.6L., EDELBROCK CARB. and chrome valve covers...tires 35/12.50/15...body lift (perhaps 10in.?)...boh!


Thank You Cristiano for sharing your prized Jeep with us. You have something to be truly proud of.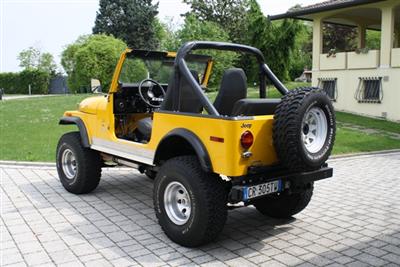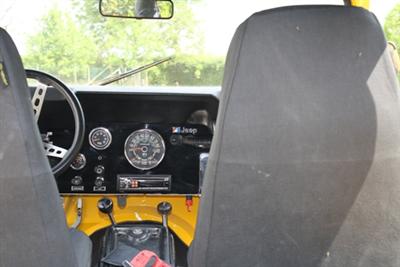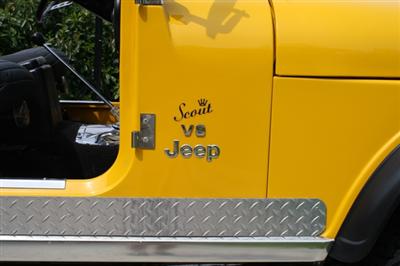 Custom Search
Doing a site search is the easiest way to find specific info on my site
(Return to Top of This Page...'78 Jeep CJ7)
Home|About|Site Map|Contact Me|What's New?|Disclaimer
Hi, this is Larry..the author of this website. I know you hear a lot about how to build an online business...but nothing compares to what you will see when you click the box below. Proven simply the best!