COMANCHE X 3
by Andrew Glinski
(Dana Point, Ca)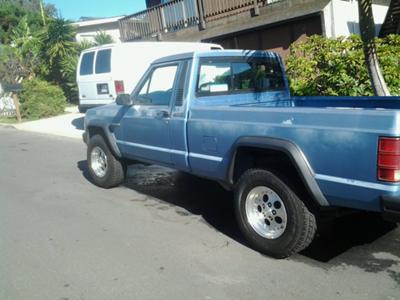 I BOUGHT MY 1ST MJ COMANCHE 2 YEARS AGO AND I'M HOOKED ON THEM.

I NOW OWN 3 OF THEM. I HAVE A 1987 PIONEER 4X4, 1988 BASE 4X4, AND A 1990 PIONEER 4X4. ALL 3 ARE AMAZING TRUCKS.

I WISH JEEP MADE A TRUCK AGAIN.


Larry's Comment: Andrew...this is the kind of addiction that does not require any rehab...ha!

I know the feeling. It's like that old potato chip commercial..."betcha can't eat (own) just one".

My '87 Comanche is a joy to own and drive. I have had numerous offers to sell...but that's not going to happen any time soon.
Join in and write your own page! It's easy to do. How? Simply click here to return to Brag on your Jeep truck 4x4!.