Jeep Automatic Transmission: Top 5 Reasons!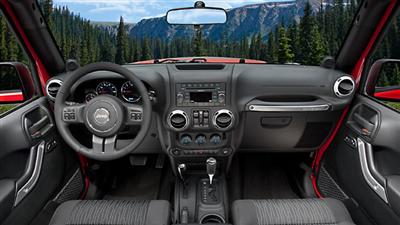 The Jeep automatic transmission can be a thing of beauty and function on the trail and in town...but is it better than the tried and true manual (or stick) shift?

Personal preferences aside, I have once again come up with my top 5 reasons for (in this case) being "shiftless"...or...preferring the Jeep automatic transmission.

Many Jeep owners have purchased Jeep models that have no manual/stick transmission option such as the Grand Cherokee...however, at least for now the Wrangler and a few other models in various locations have both automatic and manual options available.

So now let's change gears and shift into over-drive with the top 5 reasons to have an automatic in your Jeep.



Reason # 5: The automatic is easier and more effective while "rock crawling" and going up and down steep hills. There is no clutch or shifting to worry about.



Reason # 4: With the automatic it is much easier to eat a Big Mac and a large order of fries with a 32oz. Cola...while negotiating the Rubicon Trail.



Reason # 3: While driving around town I can focus more on my text messaging, cell phone calls, stereo settings, GPS, latest novel, DVD player, friends in the back seat, and a bag of Cheetos.



Reason # 2: My "gimpy" left leg (old football injury) keeps me from using a clutch, therefore I have to drive an automatic which has no clutch pedal.



Reason # 1: I don't know how to drive a "stick" shift.
And just for the record I have nothing against automatics in Jeeps...but I do love the feel of shifting gears, manipulating the clutch, and the control of a manual (stick) transmission.
Now, add your thoughts about why some might prefer a Jeep automatic transmission below (in the form provided)...and if it is clean, original and most of all funny I will include your submission as well.
Just include your first name and you will be given full credit.
Readers Thoughts on the "Slush Box"
Tim says:
I didn't know they made automatics!




Return to Top of This Page.. Jeep Automatic Transmission )
Home|About|Site Map|Contact Me|What's New?|Disclaimer
Hi, this is Larry..the author of this website. I know you hear a lot about how to build an online business...but nothing compares to what you will see when you click the box below. Proven simply the best!